Virginia school principal, assistant principal depart after 6-year-old shoots teacher
NEWPORT NEWS, Va. - The shooting of a teacher by a six-year-old student in Virginia continues to shake up the school district with further leadership and staff changes. 
The Newport News School Board voted 5-1 to remove Superintendent George Parker III from his position following the January 6 shooting of Abigail Zwerner, 25, by one of her own students. The shooting earlier this month, along with 2021 shootings at Heritage and Menchville high schools, have teachers, parents and community members outraged.
READ MORE: Newport News elementary school shooting: Teacher shot by 6-year-old identified as parents demand action
The boy, who remains unidentified, brought his mother's handgun to class and shot Zwerner during a lesson at Richneck Elementary School. Zwerner was hospitalized for two weeks and is now recovering at home.
Now, principal Briana Foster Newton and assistant principal Ebony Parker have both left the school. A spokesperson for the school district said that Newton remained employed by the district, but did not reveal in what capacity, and Parker resigned from the school district.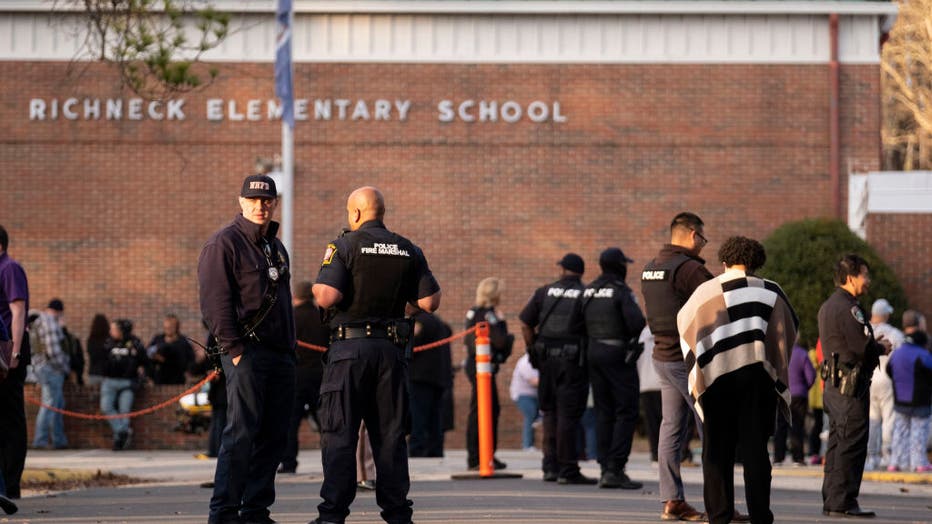 Police respond to a shooting that injured a teacher at Richneck Elementary in Newport News, Virginia, on Jan. 6, 2023. (Billy Schuerman/The Virginian-Pilot/Tribune News Service via Getty Images)
The change in personnel follows news that Zwerner plans to sue the school district over the incident. 
Diana Toscano, who represents Zwerner, said that concerned teachers and employees had warned administrators three times that the boy had a gun on him and had been threatening other students, "but the administration could not be bothered."
READ MORE: Virginia school administrators were warned 3 times before 6-year-old shot teacher: lawyers
Police said that the boy's mother had legally purchased the 9mm handgun used in the shooting, and the family said that the gun had been "secured" in the mother's closet on a shelf well over six feet high, with a trigger lock that required a key.
The family also said that the boy had an "acute disability" that included an allowance for one of his parents to accompany him to class every day. The week of the shooting was the first time a parent was not present.
READ MORE: School searched 6-year-old's backpack before teacher shot in Newport News
Emotional support services have been provided to students, families and staff by the district's student support specialists, school social workers or licensed therapists. Karen Lynch, who took over as the school's administrator, said in her letter to families that those services will continue when students return to school.
Read more at FOXNews.com