Virginia teen with rare cancer gets wish to 'travel' the world with help from social media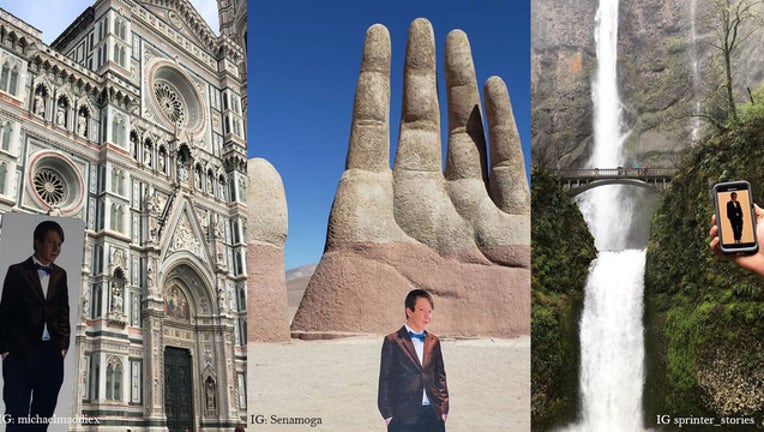 article
STAFFORD, Va. - A Stafford teen's dream of travelling the world was sidetracked after he was diagnosed with a rare form of leukemia but his wish is coming true with the help from social media users around the globe!
While Jake McGrath should be continuing his quest for the ultimate Philly cheesesteak or going out for ice cream with friends, he can't. In 2018, the then 10th grader, was diagnosed with a rare form of acute myeloid leukemia. His days are spent at the hospital or a nearby hotel filled with tests, medicines, and unpleasant treatments.
Jake's ability to travel is limited but nothing is stopping him from going on virtual expeditions! 'Where in the World is Flat Jake Mc G' is a social media intuitive started by his parent's coworkers to help the teen see the world with a bit of help from social media. 
People around the world have shown their support by posting pictures of a swaggy cutout version of Jake exploring Florence, Croatia, Ecuador, Abu Dhabi and many more locations. 
And of course, his hometown showed him major love. During a soccer game, D.C. United posted a picture of Jake on the big screen in Audi Field-- now that's pretty cool!
Throughout the course of his medical journey, Jake has faced many highs and lows. Things were looking up for the teen when two out of six siblings were eligible matches for a stem cell transplant. Unfortunately, after many rounds of chemo to prepare for the transplant, doctors discovered Jake also had T-cell acute lymphoblastic, a hybrid form of leukemia even more rare and challenging to treat. While his siblings, Jake and Andrew, were able to move forward with the transplant Jake's body rejected the stem cells.
But the one thing that brings Jake great joy is seeing pictures of him 'visiting' different parts of the world while making new friends.
"Jake is tracking the social media activity, so let's do what we can to keep him busy!" 
If you want to join in on the fun, just print this cutout of Jake and take him on your adventures and don't forget to tag #flatjakemcg on your posts. 
You can also follow his adventures on Instagram, Facebook and Twitter.