Wallace, California beat USC on buzzer beater 70-69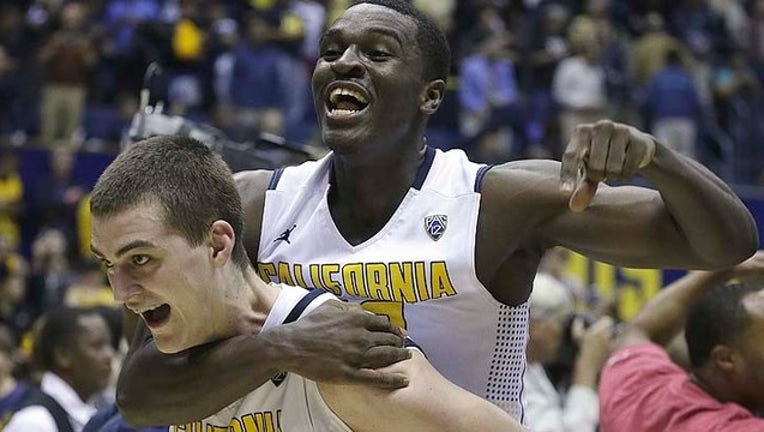 article
BERKELEY, Calif. (AP) -- California coach Cuonzo Martin knows his team still has a lot of growing to do. Winning back-to-back games on 3-pointers in the final seconds will certainly help the process.
Four days after Sam Singer's game-winner against Washington, Tyrone Wallace added his own theatrics and made a 3-pointer at the buzzer to lift the Golden Bears to a 70-69 win over Southern California on Thursday night.
''I just think the guys have grown up,'' said Martin after Cal's comeback in the final two minutes avoided what would have been a grueling setback. ''Those losses were painful, you have to learn something from them. In the last three games, regardless of the outcome, our guys had mental approach and felt like we could still win this game.''
The Bears (14-9, 4-6 Pac-12) led by as much as 14 in the first half but trailed 66-65 with 1:04 left before rallying to win their third straight.
David Kravish scored on a short hook shot to give Cal the lead. After Katin Reinhardt's 19-foot jumper put the Trojans up 68-67, Wallace missed the front end of a one-and-one with 9.7 seconds remaining.
The Bears' leading scorer got redemption moments later after Jordan McLaughlin made one free throw for USC with 4.9 seconds left.
Cal got ball to Wallace, who rushed toward the 3-point line before pulling up and making the game-winner with two USC defenders closing in. That set off a frenzy near midcourt as fans and students poured out of the stands and rushed the court.
''Luckily I was able to make that shot and help the team win,'' Wallace said. ''Any game-winner is fun, whether on a layup or a 3-pointer.''
Wallace finished with 18 points, Kravish scored 15 points and eight rebounds while Jordan Mathews added 12 points for the Bears.
McLaughlin scored 20 points for the Trojans, who have lost seven straight since beating the Bears 71-57 on Jan. 7.
Southern California was in position to complete the season sweep but missed four key shots down the stretch and also missed a critical free throw in the final seconds.
Cal needed to come back despite leading most of the night.
Kravish got the Bears going early with seven consecutive points. Mathews later scored on a spinning layup, was fouled, and completed the three-point play to put Cal up 26-13 midway through the first half.
The Trojans, whose only conference win this season came against the Bears, pulled within 30-22 on Reinhardt's short floater. Wallace answered with a driving layup around two defenders then added a 3-pointer to help Cal take a 35-26 halftime lead.