Walnut Creek wildlife hospital sees shocking increase in animal shootings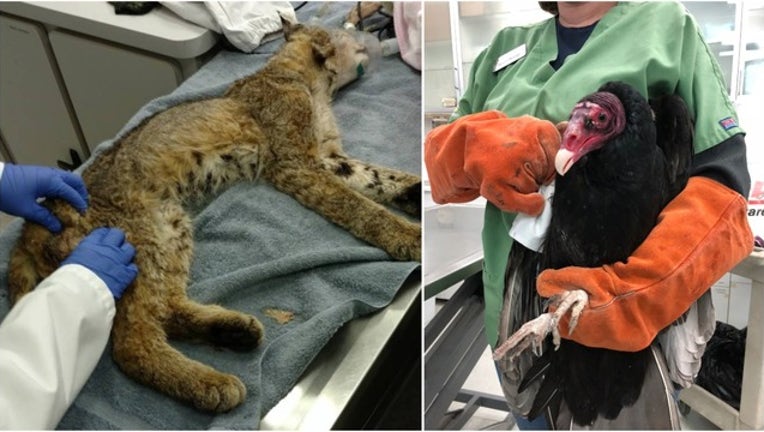 article
WALNUT CREEK, Calif. (KTVU) - Nearly 30 animals have been treated this year at a Walnut Creek wildlife hospital for being shot by a human, marking a sharp increase compared to the yearly average. 
Lindsay Wildlife Hospital treats around 10-to-15 animals per year for wounds related to being shot. They've treated seven in just the last month, bringing the 2018 total to 29.  And the wounded animals are not coming from an isolated area, nor are they limited to just birds. A bobcat, turkey vulture and even a river otter are included in the growing list of species who have been shot recently. 
Unfortunately, despite receiving medical care, the majority of the animals do not make it.
"Even if done legally, the shooting of wildlife can cause a lot of suffering," said Lindsay Veterinarian Dr. Allison Daugherty. "If an animal survives the initial trauma, it can take a long time for them to die or become debilitated enough to be captured and brought to a facility like Lindsay Wildlife. Often by then they are too far gone for us to save."
This applies to seemingly minor injuries. For example, the aforementioned turkey vulture. It was found injured on Bethel Island in November and died during surgery to remove a pellet from its wing. 
So far, species treated in Walnut Creek for being shot include: American crow, bobcat, Canadian goose, common raven, double-crested cormorant, eastern fox squirrel, golden eagle, great egret, North American river otter, northern raccoon, red-shouldered hawk, Swainson's hawk, turkey vulture and Virginia opossum. 
And while staff said they're not positive on what kind of weapon is being used, pellets are the most common piece of shrapnel found lodged in the wounded animals. Those who are left to die with pellets in them present additional problems, as healthy animals are at risk of getting lead poisoning if they consume the carcass.   
A spokesperson with Discover WildCare in San Rafael said the number of shot animals are higher at their facility, too. But the sample isn't large enough to draw connections in terms of big picture, she said. 
Wildlife officials said some residents shoot animals for target practice, while others do it when critters are considered a nuisance. Instead of eliminating animal related issues by use of deadly force, residents can take a few steps to make their backyard inhospitable for wildlife. To start, avoid leaving pet food outside, rake up leaves and get rid of fallen fruit. Lindsay Wildlife's hotline provides additional tips for humans and wild animals to live with reduced conflict.  
"There's a long history of people vs. wildlife because we're living in the same territories and habitats. We need to find a balance so that we can live as people and wildlife. Educating the public on ways to do this is a big part of what we do," said Daugherty. 
Lindsay Wildlife also encourages people to alert authorities if they witness a wild animal being shot. You can make the tip anonymously through California Fish and Wildlife's confidential hotline at 888-334-CALTIP.
KTVU reported this story from Oakland.