Wambach's goal gives US a 1-0 win over Nigeria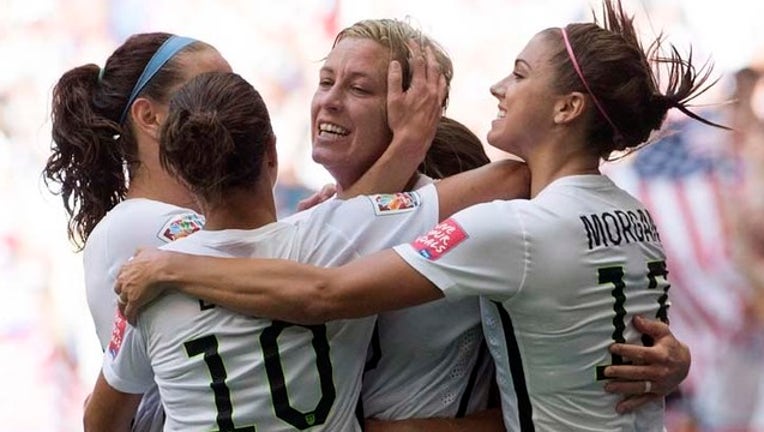 article
VANCOUVER, British Columbia (AP) — Abby Wambach is used to scoring with her head. She's not sure how she got her latest goal.
"I think it was my shin guard, to be quite honest," she said. "I'm not 100 percent sure."
Doesn't really matter to Wambach. What does is that she scored, pulling the U.S. national team to a 1-0 victory over Nigeria and into a first-place finish in its group at the Women's World Cup.
That sends the United States to Edmonton, Alberta, for the opening match of the knockout stage against an undetermined opponent.
It was Wambach's first goal in Canada and her 14th overall in a World Cup, pulling her even with Birgit Prinz for second on the all-time list behind Brazil's Marta, who has 15.
"Getting that goal right before the half was big for us," she said. "Not taking too many injuries is also positive, and going out first in our group was absolutely what we set out to do."
Wambach came off the bench for the United States in the team's last match against Sweden. Tuesday, she started up top with Alex Morgan, who was making her first World Cup start in Canada after working her way back from a bone bruise in her left knee.
The United States, ranked second in the world behind Germany, has two World Cup titles, but hasn't won since 1999. Four years ago in Germany, the U.S. advanced to the final but fell to Japan on penalty kicks.
Nigeria, which has won seven of nine African championships, has been to every World Cup since it started for the women in 1991. The Super Falcons were eliminated after the loss to the United States after playing to a 3-all draw with Sweden in the opener and falling 2-0 to Australia.
Afterward, coach Nigeria coach Edwin Okon would not shake the hand of U.S. coach Jill Ellis.
"We created some good chances, but we didn't take the chances," Okon said about his team's performance. "It is a lesson."
The U.S. opened Group D with a 3-1 victory over No. 10 Australia, before playing to a 0-0 draw with No. 5 Sweden.
Morgan hadn't started a match since April. The speedy 25-year-old played 12 minutes as a sub in the draw with Sweden.
Wambach also came in as a sub in the match against Sweden last Friday. It was the first time she had played off the bench at a World Cup since her first in 2003.
The 35-year-old veteran, who didn't score in the first two U.S. group stage matches, had never gone without a goal in the opening round in her four overall World Cup appearances.
Wambach said it was important to get a start with Morgan as the team heads to the next round.
"Huge to get Alex minutes, not just for us to get the minutes together, but for her to get minutes in the World Cup, and for her to get her legs under her," Wambach said. "Because we need Alex Morgan."
Julie Johnston had the best chance for the United States early, but her strike in the eighth minute was ruled offside. Minutes later, U.S. goalkeeper Hope Solo dove to stop Nigeria forward Asisat Oshoala's attempt.
Nigerian goalkeeper Precious Dede had to punch Megan Rapinoe's long 25-foot blast in the 17th minute. Johnston battled to catch Oshoala on a fast break, sliding to deflect the ball as Solo charged.
Wambach finally put the United States ahead just before the end of the half when she rushed in on a corner kick from Megan Rapinoe and volleyed the ball into the goal at the far post.
Earlier this week after training, Wambach said she thought she would have scored earlier in the tournament if it was being played on real grass. The artificial turf at the World Cup in Canada has been a contentious issue for some players.
"We can sit all day and talk about it, you know me, I can talk a blue streak, the reality is that's it's not changing," she said about the turf. "And I'm not making excuses."
A scary moment came when Wambach and Josephine Chukwunoye appeared to bump heads in a collision. Wambach got up quickly, but Chukwunoye — who got a yellow card on the play — was helped off but returned a few moments later.
Sydney Leroux, who grew up in the Vancouver area, replaced Morgan in the 65th minute. Leroux, who has an American father, left Canada as a teenager to pursue her goal of playing for the United States.
Nigeria, which was physical all game, was hurt when Sarah Nnodim was sent off with her second yellow of the night for a tackle on Leroux in the 69th minute. That put Nigeria at 10 players for the rest of the match.
"I think overall it was a good result," said midfielder Carli Lloyd. "We only put it away once, but I think we're getting a little better each game, and that's what matters."
Morgan, who has 51 goals in 84 international appearances, had not started in a match since April 11, the season opener for the Portland Thorns of the National Women's Soccer League. Her last start for the United States came April 4 in a 4-0 victory over New Zealand in St. Louis, Missouri.
She wore pink tape on her knee during the match.