Warriors' Curry has mild to moderate left groin strain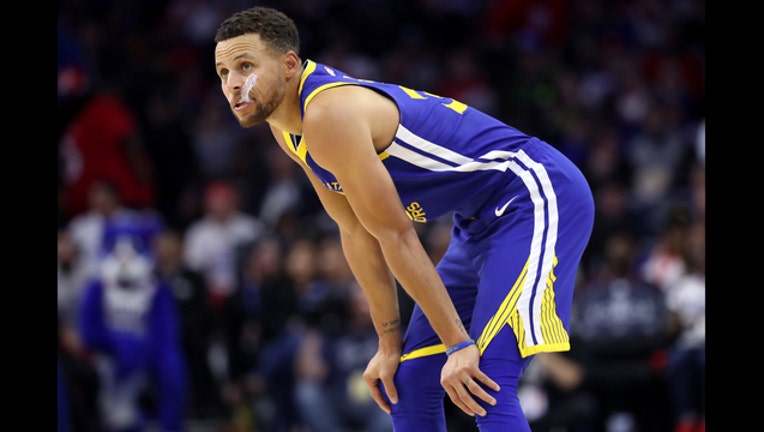 article
OAKLAND, Calif. (AP) - Stephen Curry has a mild to moderate left groin strain and will miss Golden State's home game against Brooklyn on Saturday night.
Curry underwent an MRI exam Friday but the Warriors will wait a few days to fully determine the severity of the injury. Coach Steve Kerr said it doesn't appear to be significant.
"This doesn't look like it's going to be a long-term injury. He's disappointed but it could have been a lot worse," Kerr said. "We'll just monitor his progress over the next several days."
The two-time NBA MVP was hurt midway through the third quarter of Thursday night's 134-111 loss to the Milwaukee Bucks. Curry grabbed at his inner thigh after trying to contest Eric Bledsoe's shot in transition at the 6:50 mark of the third.
The 30-year-old Curry has been averaging 29.5 points, 6.1 assists and 5.0 rebounds while shooting 49.2 percent from 3-point range.
Curry scored 10 points Thursday in his second straight game below 20 after getting at least 23 in every game previously - including five 30-point performances and a 51-point outing in three quarters. He dished out six assists in 26 minutes.
"He's a little bummed out," Kerr said.
The Warriors won't take a chance with him at this early stage of the season.
Curry hurt his left knee March 23 just as he had come back from a six-game absence with a right ankle injury. He also missed 11 games in December with a sprained right ankle.
Curry missed the first round of the playoffs then returned for Game 2 of the Western Conference semifinals against the Pelicans as the Warriors went on to win a second straight championship and third title in four years.
Quinn Cook, who filled in last season when Curry was hurt for a long stretch, will start against the Nets. He was promoted from the G League as a two-way player and received a two-year contract ahead of the playoff run.
"For me to start a lot last year late and play big playoff games ... that did a lot for our confidence," Cook said. "Just staying ready, you've just always got to work - come in early, stay late."
Fellow All-Star Draymond Green also will miss Saturday's game, the second straight game that he'll be sidelined by a sprained right foot and toe. Key reserve guard Shaun Livingston missed his sixth straight game and eighth in the last 10 with a sore right foot, but was able to do some scrimmaging Friday. He will have to do that several times before Kerr is ready to put him back on the floor in a game.