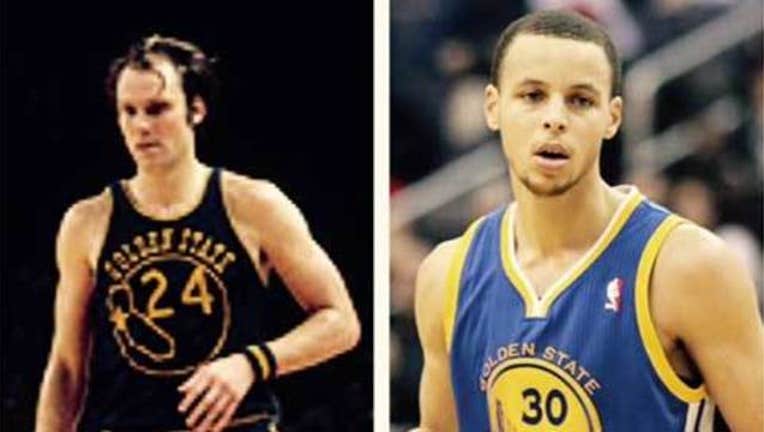 article
A lot has changed in the 40 years since the Warriors won an NBA championship, for instance none of the Warriors playing in 2015 were even born in 1975. But some things remain the same, like the Governor.

More on what things were like in 1975 compared to what's going on now.

1975- Jerry Brown (1st term - 37 years old)
2015- Jerry Brown (4th term- 77 years old)
1975- Gerald Ford (38th U.S. President)
2015- Barack Obama (44th U.S. President)
1975 "JAWS" $26 million
2015 "Avengers: Age of Ultron $413,318,567 (Opened on 5/1)
1975- "Love will keep us together" - Captain and Tennille
2015- "Bad Blood" - Taylor Swift featuring Kendrick Lamar
Taylor Swift was not born until 1989
1975- "Godfather II"
2015- "Birdman"
1975- Super Bowl IX: Steelers beat Vikings
2015- Super Bowl XIXL: Patriots beat Seahawks
1975- $9,861.00
2015- $51,939
"Wheel of Fortune" debuts on NBC
John Wooden retires as head coach of UCLA after winning 10th NCAA basketball championship in 12 years
Margaret Thatcher elected leader of British Conservative Party
Vietnam War ends
Microsoft is founded as a partnership between Bill Gates and Paul Allen.
Sony introduces the Betamax videocassette recorder for sale to the public.
"Saturday Night Live" premieres with George Carlin as host
None of the Warriors players would be more for eight more years (1983)
Stever Kerr was 10 years old