Warriors ride hot first-half stretch to beat Kings, 121-96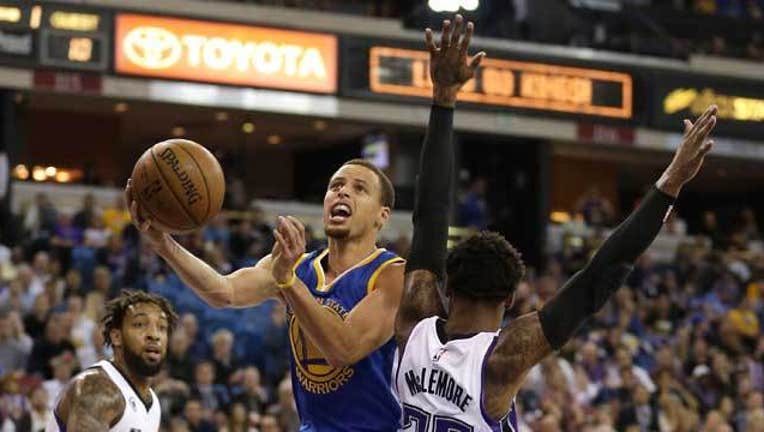 article
SACRAMENTO, Calif. (AP) — Stephen Curry had 23 points and nine assists, and the Golden State Warriors rode a 23-0 spurt in the first half to beat the Sacramento Kings 121-96 on Tuesday night.
The Warriors shut down Sacramento for more than seven minutes at the end of the first quarter and start of the second quarter to take an 18-point lead. They went ahead by 20 at the half and 25 in the third quarter before holding off a brief Kings comeback.
Andre Iguodala added 17 points, and Marreese Speights finished with 17 points and eight rebounds to help the Warriors sweep the four-game series with Sacramento for the second straight season.
DeMarcus Cousins had 26 points and 11 rebounds, and Rudy Gay scored 20 for the Kings, who rallied within 11 late in the third quarter before the Warriorsregrouped.
Sacramento snapped its eight-game losing streak with a win at Indiana on Saturday and had hoped to carry the momentum home.
Instead, about the only thing the Kings accomplished was quieting Klay Thompson — who had 14 points — after he scored an NBA-record 37 points in the third quarter and finished with 52 points in Golden State's last game against Sacramento on Jan. 23.
The Warriors had 33 assists and 11 turnovers, while the Kings had 17 assists and 18 turnovers. Golden State outshot Sacramento 50.5 percent to 44.3 percent and outscored Sacramento's bench 61 to 12.
It was quite a way for the NBA-leading Warriors (38-8) to begin a stretch of four games in five nights, including three on the road. In all, five of their last six games before the All-Star break are away from home.
Golden State fell behind 22-14 with 4:43 remaining in the first quarter before smothering Sacramento (17-30) for a stunningly prolonged stretch.
The Warriors held the Kings scoreless for more than seven minutes and without a field goal for more than 8 ½ minutes. Sacramento missed 10 consecutive shots and committed five turnovers until Jason Thompson's short jumper with 9:38 left in the second quarter.
The Warriors rolled into the half up 63-42 and kept their pace-and-space attack moving after the break. They stretched their lead to 25 points in the third quarter.
Cousins helped Sacramento slice that lead to 11 late in the quarter before theWarriors got hot again. Curry hit a 3-pointer in the closing seconds of the quarter and the Warriors built back a big lead.
NBA Commissioner Adam Silver attended the game. He was in town to tour Sacramento's future downtown arena, which is scheduled to open for the 2016-17 season.
TIP-INS
Warriors: It was Golden State's NBA-best 19th game with at least 30 assists. ... Backup center Festus Ezeli after sitting out the last 18 games with a sprained left ankle. He had five rebounds and two points in eight minutes.
Kings: Sacramento dropped to 6-17 since firing Michael Malone as coach. ... Reserve big man Reggie Evans was inactive.
UP NEXT
Warriors: Host Dallas on Wednesday.
Kings: Host Dallas on Thursday.