Warriors will have to shut down Rocket role players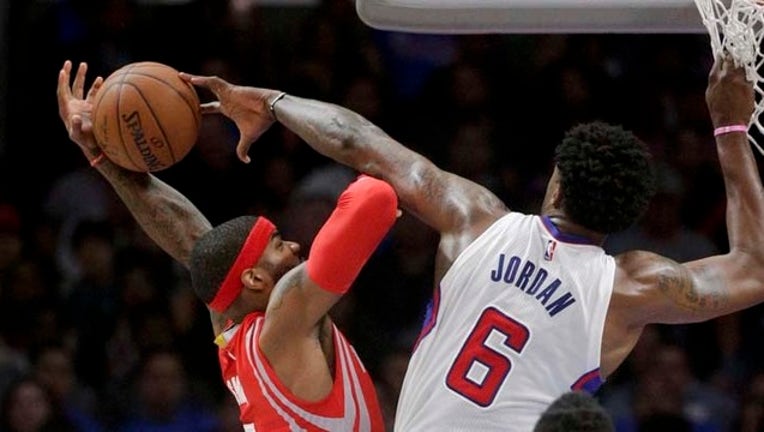 article
HOUSTON (AP) -- James Harden and Dwight Howard are undeniably Houston's most important players.
But without role players like Josh Smith, Corey Brewer and even 38-year-old Pablo Prigioni, who spent most of his career overseas, the Rockets probably wouldn't be in the Western Conference finals for the first time since 1997.
"When you are trying to win championships role players have to play a big role," Brewer said.
And Brewer has done just that, averaging 15 points in the last three games to help Houston rebound from a 3-1 deficit to eliminate the Los Angeles Clippers and move on. Brewer was acquired from Minnesota in December and has provided a spark off the bench time and time again this season.
That was never more evident than in Game 6 against the Clippers when the Rockets rallied from a 19-point third-quarter deficit for the win. Brewer scored 15 points in the fourth quarter to lead that furious comeback and Smith added 14 in the final period.
"Those guys have made a huge impact on this team," coach Kevin McHale said. "They've won many, many games for us and I anticipate they'll win more for us. Those guys are just high-energy. Brew had a great series. In the games we won he was just huge."
Smith has had a remarkable turnaround since joining the Rockets. Derided for being a cancer to the team after he was released in Detroit, Smith has found peace and a fresh start in Houston with childhood friend Howard.
"A lot of people tried to write me off and put all kind of negative things out here," Smith said. "But I knew that one day I was going to be able to get the opportunity to play for a team that valued and appreciated me and I'm here now."
McHale beamed when asked about Smith and loves what the forward has brought to Houston.
"He's been huge for our team and I'm really happy for him," McHale said. "We're not standing here without what he did in Game 6. Everybody played great defensively, but he and Brew offensively carried us in that fourth quarter. So it's great ... sometimes some of the darkest times are followed by light and I'm just happy that he's getting some good coverage."
Tuesday night's game at Golden State will mark the 29-year-old Smith's first trip to the conference finals. He's averaging 12.9 points, 5.8 rebounds and 2.4 assists this postseason. And even more important, the Rockets haven't lost since McHale inserted him into the starting lineup when they were down two games in the conference semifinals. He's been great from long-range, shooting 37 percent on 3-pointers.
He's proud that his performance has helped give the Rockets more options when teams focus on shutting down Howard and Harden.
"It's big," Smith said. "This team has a lot of depth and (Harden and Howard) have a great supporting cast and they understand and know that all the weight doesn't have to be on their shoulders in order to get us over the hump. Everybody in each one of these first two rounds has contributed and made impacts on the games."
Perhaps the most unlikely contributor on this team is Prigioni. Acquired in February, Prigioni became Houston's backup point guard when starter Pat Beverley had season-ending surgery wrist surgery in March.
"Very impressed with Pablo," Brewer said. "To be a 38-year-old man out there playing like he's 20 is amazing."
The Argentinian played for years overseas before making his NBA debut with the Knicks in 2012 at age 35. He had two steals and a 3-pointer during an important stretch on Sunday to extend the lead when the Clippers had cut it to three points.
Harden is quick to heap praise upon Houston's unsung heroes and took time after scoring 31 points in Houston's win on Sunday to give those guys some love. He was more than happy to rave about them again on Monday before the Rockets left for California.
"They've meant everything," he said. "They've been confident throughout the way. Sometimes shots don't fall but they find other ways to attack the game and make an impact on the game. Pablo knocking down a big 3, getting a couple of offensive rebounds and getting it out for 3s -- those plays like that are probably not going to be on the highlights, but those are game-changers right there."