Wayward sea lion corralled on San Francisco street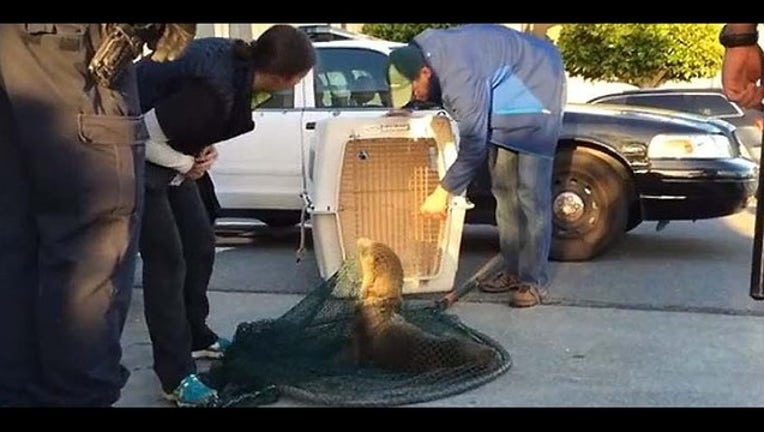 article
SAN FRANCISCO (KTVU and wires) – A sea lion who was released earlier this year after being nursed back to health at the Marine Mammal Center was captured early Thursday on a San Francisco street, officials said.
San Francisco Animal Care and Control officers said they responded to Marina Boulevard and Divisadero Street at 6:37 a.m. after receiving a report of the sea lion being under a car.
Police officers assisted in keeping the animal out of harm's way until animal rescuers from the Marine Mammal Center.
Marine Mammal Center officials said the male California sea lion's name is Rubbish and that the animal had received treatment at the center in the past after being rescued by the Santa Barbara Marine Mammal Center on Feb. 8.
Rubbish had weighed just 30 pounds and was eight months old when he was rescued in February and was released on March 23, center officials said.
After spending 5 weeks on his own, Rubbish lost 17 pounds. Veterinary staff will do an exam to see if he has any underlying issues to cause him to restrand. 
On average, fewer than 20 rehabilitated animals treated at The Marine Mammal Center restrand each year.
Marine Mammal Center officials said Rubbish is one of thousands of California sea lion pups that have stranded along the California coast this year as a result of warm waters that have affected food availability.
Anyone who sees a sick or injured marine mammal is asked to call the center at (415) 289-SEAL.