West Virginia GOP displays poster featuring Ilhan Omar and a 9/11 scene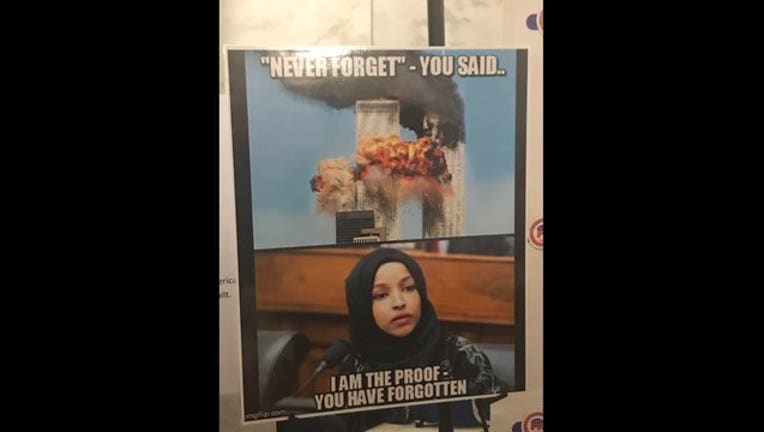 article
(FOX 9) - A controversial poster displayed in the West Virginia Capitol appears to feature Minnesota Rep. Ilhan Omar juxtaposed with the burning World Trade Center towers on 9/11.
The photo, published on Twitter by West Virginia House of Delegate Mike Pushkin, shows the burning twin towers with the words, "'NEVER FORGET' – YOU SAID.." across the top of the poster. On the bottom, a photo of Ilhan Omar is accompanied by the words, "I AM PROOF – YOU HAVE FORGOTTEN."
"This poster is in your Capitol on a booth sponsored by @WVGOP (West Virginia GOP) 'When someone shows you who they are, believe them,'" said Pushkin in the tweet with the image.
Saturday, the West Virigina GOP released a statement from Party Chairwoman Melody Potter saying the following:
The West Virginia Republican Party does not approve, condone, or support hate speech. One of the exhibitors at our West Virginia Republican Part Day at the Capitol displayed a sign that we did not approve, were not aware of before the day started, and we do not support. Upon learning about the sign, we immediately asked this exhibitor to remove the sign.
Our Party supports freedom of speech, but we do not endorse speech that advances intolerant and hateful views. We have shown that when West Virginians are united, when we respect each other, embrace our difference and focus on moving our state forward what we can accomplish.
Omar also reacted to the story about the poster Friday. In a retweet, she said:
No wonder why I am on the "Hitlist" of a domestic terrorist and "Assassinate Ilhan Omar" is written on my local gas stations.
Look no further, the GOP's anti-Muslim display likening me to a terrorist rocks in state capitols and no one is condemning them!