White House: Congress must probe alleged Obama power abuse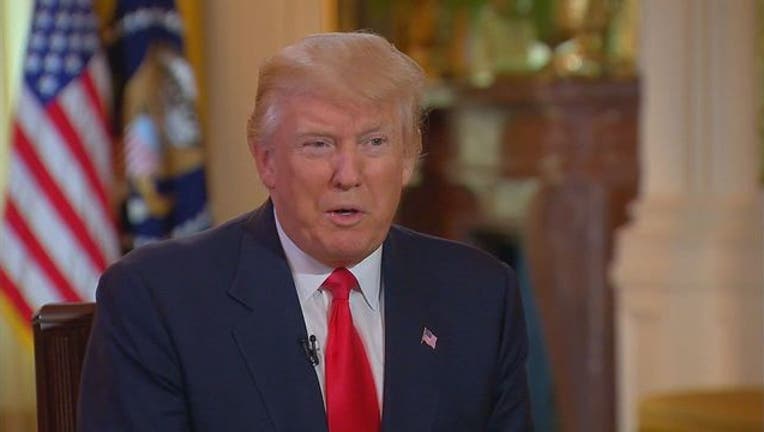 article
WASHINGTON (AP) - The White House on Sunday demanded that Congress, which is already investigating Russian meddling in the 2016 presidential election, also examine whether former President Barack Obama abused his executive powers in connection with that campaign.

The request followed President Donald Trump's claim Saturday that his predecessor had tapped the telephones at Trump Tower. Trump offered no supporting evidence, a spokesman for Obama said the claim is "simply false" and lawmakers in both parties asked for proof.

James Clapper, director of national intelligence under Obama, said Sunday that no such wiretap activity was carried out against Trump as a candidate or against his campaign.

"Absolutely, I can deny it," said Clapper, who left the White House when Trump took office Jan. 20.

White House press secretary Sean Spicer announced the request to Congress in a statement Sunday that referred to "very troubling" reports "concerning potentially politically motivated investigations immediately ahead of the 2016 election." Spicer did not respond to inquiries about citing those reports.

Trump said the wiretapping happened in October at Trump Tower, the New York skyscraper where he ran his campaign and transition. It's also where he lived before taking office.

"President Donald J. Trump is requesting that as part of their investigation into Russian activity, the congressional intelligence committees exercise their oversight authority to determine whether executive branch investigative powers were abused in 2016," Spicer said.

Spicer's chief deputy, Sarah Huckabee Sanders, said she thinks Trump is "going off of information that he's seen that has led him to believe that this is a very real potential." If the conduct alleged is confirmed, Sanders said it would amount to the "greatest overreach and the greatest abuse of power that I think we have ever seen and a huge attack on democracy itself."

"The American people have a right to know if this took place," she said of a congressional inquiry.

Josh Earnest, who was Obama's press secretary, said presidents do not have authority to unilaterally order the wiretapping of American citizens, as Trump has alleged was done to him. FBI investigators and Justice Department officials must seek a federal judge's approval to investigate by demonstrating that probable cause exists. 

Earnest accused Trump of leveling the allegations, in a series of tweets Saturday, in an attempt to distract from the attention being given to campaign-season contacts by his aides with a Russian official, including campaign adviser Jeff Sessions before he resigned from the Senate to become attorney general. The FBI is investigating those contacts, as is Congress.

"There is one page in the Trump White House crisis management playbook, and that is simply to tweet or say something outrageous to distract from a scandal," Earnest said. "And the bigger the scandal, the more outrageous the tweet."

In his tweets, Trump suggested Obama was behind a politically motivated plot to upend his presidential campaign. He compared the alleged events to "Nixon/Watergate" and "McCarthyism!" And he called Obama a "Bad (or sick) guy."

Coming after Trump's well-received speech to Congress on Tuesday, the tweets reflected his growing frustration with the swirl of allegations about his advisers' ties to Russia, and his team's inability to overcome them. Trump lashed out at his senior team during an Oval Office meeting Friday, according to one White House official.

Trump said in the tweets that he had "just found out" the information, though it was unclear whether he was referring to a briefing, a conversation or a media report. The president in the past has tweeted about unsubstantiated and provocative reports he reads on blogs or conservative websites.

The morning tweets stand out, even for the perpetually piqued Trump, given the gravity of the charge and the strikingly personal attack on the former president. Trump spoke as recently as last month about how much he likes Obama and how much they get along, despite their differences.

"How low has President Obama gone to tapp my phones during the very sacred election process. This is Nixon/Watergate. Bad (or sick) guy!" he tweeted, misspelling `tap.'

Obama spokesman Kevin Lewis said Saturday that a "cardinal rule" of the Obama administration was that no White House official ever interfered in Justice Department investigations, which are supposed to be conducted free of political influence.

"As part of that practice, neither President Obama nor any White House official ever ordered surveillance on any U.S. citizen," Lewis said, adding that "any suggestion otherwise is simply false."

Trump has been trailed for months by questions about his campaign's ties to Russia. The questions have been compounded by U.S. intelligence agencies' assessment that Russia interfered with the election to help Trump triumph over Hillary Clinton, along with disclosures about his aides' contacts with a Russian official.

Those disclosures cost retired Gen. Michael Flynn his job as national security adviser and prompted calls from Democrats for Sessions to resign.

 On Thursday, Sessions withdrew from overseeing the FBI probe after acknowledging he did not disclose his campaign-season contacts with Russia's ambassador to the United States when asked during his confirmation proceedings. Sessions, a U.S. senator at the time, was Trump's earliest Senate supporter.

The Sessions revelations deepened the president's anger over the staying power of the Russia issue.

Trump's allegations may be related to anonymously sourced reports in British media and blogs, and on conservative-leaning U.S. websites, including Breitbart News. Those reports claimed that U.S. officials had obtained a warrant under the Foreign Intelligence Surveillance Act to review contacts between computers at a Russian bank and Trump's New York headquarters.
The Associated Press has not confirmed these contacts or an investigation into them. Trump's chief strategist Steve Bannon is a former executive chairman of Breitbart News.

Clapper appeared on NBC's "Meet the Press," while Sanders and Earnest were on ABC's "This Week."