Widow of slain BART officer sues transit agency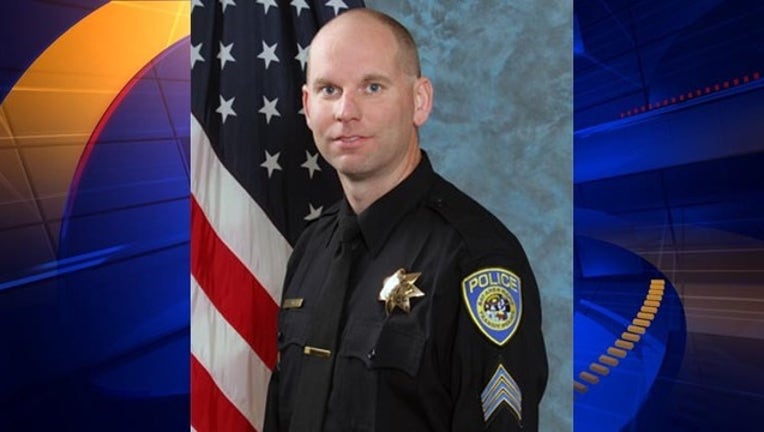 SAN FRANCISCO (KTVU and wires) -- The wife of a BART police killed in the line of duty alleges in a federal lawsuit that the department repeatedly denied his requests for
additional training or use of its SWAT team during high-risk searches before he was inadvertently shot dead by a colleague in a search in Dublin last year.
The suit was filed by Kellie Smith, also a BART officer and widow of Sgt. Thomas Smith Jr., in U.S. District Court alleges that BART's police department under Chief Kenton Rainey and Deputy Chief Benson Fairow has a
practice of denying the use of trained SWAT officers for potentially high-risk building and probation searches.
The suit also alleges that BART police officials denied training requests by BART detectives and officers who were required to do building and probation searches without the assistance of BART SWAT officers.
Thomas Smith, 42, a 23-year veteran at BART, was fatally shot when he led a team of eight officers in a search of a robbery suspect's apartment at 6450 Dougherty Road in Dublin at about 2 p.m. on Jan. 21, 2014.
Smith was killed by Detective Michael Maes, a law enforcement veteran with 26 years of experience as an officer who said he mistook Smith for an armed suspect during the search.
Eustace de Saint Phalle, the attorney for Kellie Smith, alleged that BART failed to provide proper training to Thomas Smith and other detectives for building and probation searches and BART management was aware
of the lack of training.
The suit seeks an injunction to prevent BART from forcing employees to perform tactical operations without having the necessary training and to force BART to implement changes to training and policies that
will promote officer and public safety.
The suit also seeks unspecified damages for Smith's family.
"Smith realized that the dangerous nature of probation searches mixed with his detective unit's lack of proper training created a serious officer and public safety issue," de Saint Phalle said in a statement.
According to de Saint Phalle, Kellie Smith wrote an open letter to BART directors and police officials saying that because of the repeated denials for training requests, Thomas Smith asked her to sue BART and Fairow
if anything happened to him.
Kellie Smith said in the letter, "My husband's words will stay with me forever. I cannot let this situation and his concern for his fellow officers go unanswered."
BART officials weren't immediately available for comment on the lawsuit.