Wildest weekend California weather images: Buckled roads and banks of snow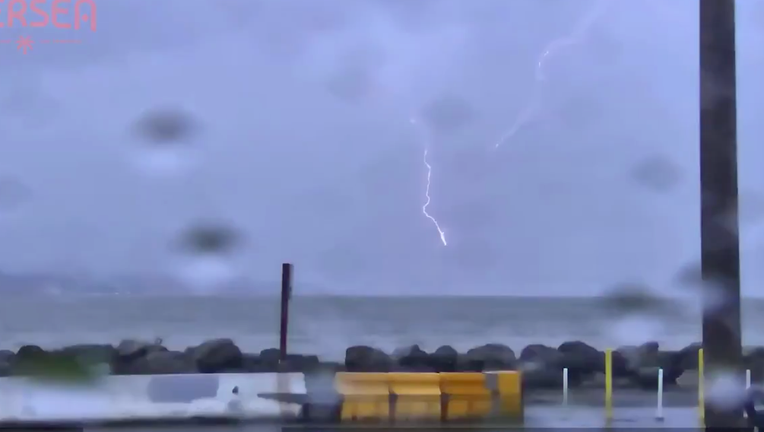 article
OAKLAND, Calif. - The weekend weather throughout California continued to wreak havoc across the storm-battered state.
Roads buckled. Trees fell. Snow-bound visitors walked through tall banks of snow. 
Ski resorts, such as Sugar Bowl in Norden, Calif., closed trails for avalanche mitigation and Palisades Tahoe closed one of the gondolas for the day.  
Deirdre Des Jardins shared a photo taken by Jim Owens of a cracked-up Glenwood Drive in Scotts Valley in Santa Cruz County – among the hardest hit counties in California since the rains began in earnest on Dec. 27. Cal Fire warned motorists of a massive sinkhole on Stage Road in Pescadero. 
The Twitter account, Tahoe Weather, shared video of a man walking out of his house in Bear Valley, Calif., Sunday morning through a snowbank about 10 feet high.
Caltrans officials did a great job keeping drivers updated with traffic conditions throughout the weekend, sharing information and videos of closed highways and snowy conditions as skiers headed to the slopes.
At one point, Interstate Highway 80 was closed.  
Saturday was a crazy weather day, too.
The National Weather Service shared video of the lightning strike that hit the Golden Gate Bridge about 5 p.m. captured on one of their webcams. 
In Sacramento, one intersection at San Juan Road and Northgate Boulevard was so flooded, it was nearly impossible to cross the street.  
Rains will continue on Monday and should dry out a bit on Tuesday. 
The NWS said there will be one last weak system on Wednesday before dry weather returns.