Will Ferrell starts MLB tour playing for Oakland Athletics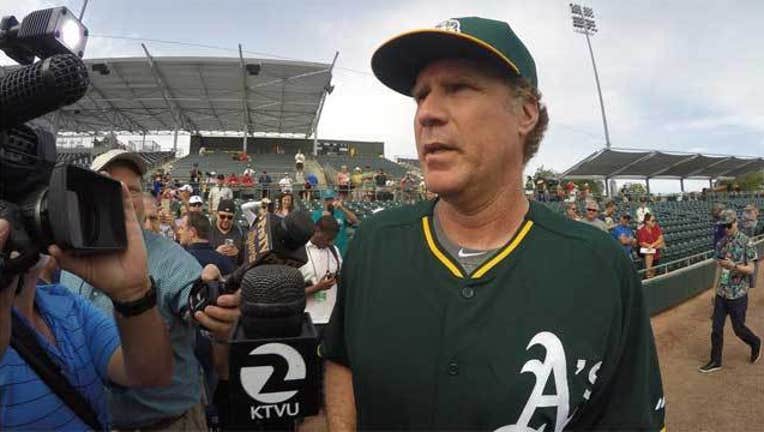 article
PHOENIX (KTVU-AP) — Carrying his No. 19 uniform, Will Ferrell arrived at the Oakland Athletics training camp ready for a whirlwind tour of on-the-field cameos during Cactus League games Thursday.
Ferrell arrived early at HoHoKam Park, spring training home of the A's, telling people as he entered that he was in "beast mode."
And Ferrell had his usual (false) bravado on display.
In the A's clubhouse before the game, he told shortstop Marcus Semien, "I could catch fire today and you could be on a bus back to Triple-A."
In his interview on MLB radio, he said "I'm actually hoping that my acting career is over after today."
"I think it's pretty much the feeling out here that I'm going to land with one of these clubs," Ferrell said. "These teams need a clubhouse presence and my presence is a flabby 47-year-old guy that doesn't know how to play. But I have life experience and I'm willing to do whatever it takes to get the job done."
He took batting practice with the Athletics, actually hitting a couple up the middle. When he took the field at shortstop, the crowd cheered when he fielded a warm-up grounder and threw it perfectly to first base.
Telling everyone "I'm a five-tool guy," Ferrell started his barnstorming tour by playing shortstop for the Athletics in the top of the first inning, then second base for the Mariners in the top of the second.
As he left, he gave a fan in an elf costume a long hug, then was off with a police escort, lights flashing, to a waiting helicopter and a flight to stop No. 2 in Tempe.
The comedian planned to play for 10 teams at five spring training games, playing every position along the way.
Later in the day, Ferrell will sub for Giants star Buster Posey behind the plate at the San Francisco-White Sox game.
The comedian plans to play every position while making appearances at five Arizona spring training game. He will play for all 10 teams involved, HBO and Major League Baseball announced Wednesday.
The star of "Anchorman: The Legend of Ron Burgundy," ''Talladega Nights: The Ballad of Ricky Bobby" and "Elf," among other movies, will travel to the Phoenix suburbs of Mesa, Tempe, Scottsdale, Glendale and Peoria via helicopter. The event will be filmed for an upcoming HBO special in conjunction with the Funny or Die website co-founded by Ferrell.
HBO said Ferrell is dedicating his special to fighting cancer. He also will honor Bert Campaneris' feat of playing nine positions in a game five decades ago. Starting times for four of the games were adjusted to make Ferrell's barnstorming tour possible.
Memorabilia collected during Ferrell's tour will be auctioned off at MLB.com, with proceeds going to College of Cancer and Stand Up to Cancer, according to HBO.
"Will is a big fan of our game," MLB Commissioner Rob Manfred said in a statement, "and many of us in baseball — among our clubs, players and our millions of fans — are big fans of his. Major League Baseball is happy to take part in what will surely be a fun and memorable day for a great cause."
Ferrell is to appear in the following games: Seattle Mariners-Oakland Athletics to start at 12:05 p.m. PDT; Chicago Cubs-Los Angeles Angels at 1:10 p.m.; Cincinnati Reds-Arizona Diamondbacks at 2:10 p.m., San Francisco Giants-Chicago White Sox at 4:05 p.m.; and Los Angeles Dodgers-San Diego Padres at 6:15 p.m.
"This latest collaboration is one of those things only Will could pull off," Michael Lombardo, HBO's president for programming, said in a news release. "I can't wait to see him take the field."
This is not Ferrell's first foray into the game.
In 2012, he and Zach Galifianakis, promoting their movie "The Campaign," threw out the first pitch at a Chicago Cubs game.
Ferrell also served as the producer with fellow "Saturday Night Live" veteran Adam McKay for the HBO sports comedy series "Eastbound & Down," which told the story of abrasive former major league Kenny Powers (played by Danny McBride) who attempts a comeback after washing out of the big leagues. The show ran for four seasons between 2009 and 2013.
And in 2010, he pitched — sort of — for Houston's Triple-A club, the Round Rock Express, in a game against Nashville. Wearing a mustache in the guise of "Rojo Johnson," a temperamental Venezuelan player, he threw one pitch behind a batter and was ejected. He ripped off the mustache as he left the field.
"Nashville's got good stuff," he said afterward. "They've got a lot of moxie."
It gives a hint of what Major League Baseball is in for on Thursday.