Winter storm front approaching; flash flood watch issued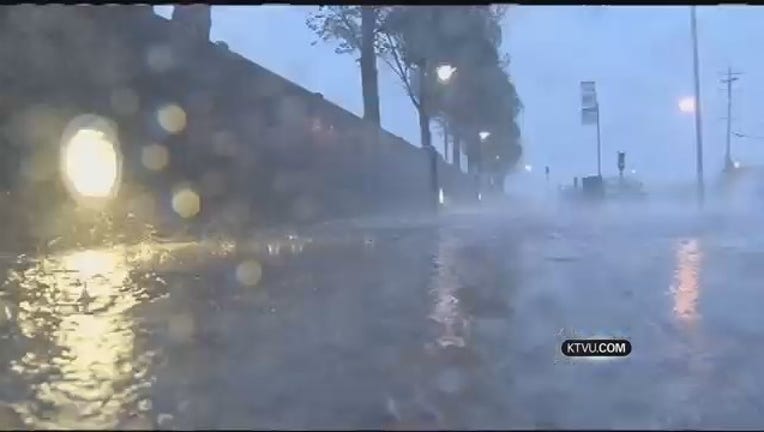 article
SAN FRANCISCO (KTVU) – A potent winter storm front continued to advance toward parched Northern California Wednesday, triggering a flash flood watch from the National Weather Service for the North Bay.
The weather service watch was scheduled to go into effect Thursday night for the areas north of the Golden Gate Bridge when the storm front was expected to roar ashore packing high winds and intense showers.
Forecasters warned drivers to be prepared for a wet commute while heading into work early Friday morning in from San Rafael northward on Highway 101. The showers will not reach San Francisco and Oakland until after the morning commute has ended.
Winds of 21 to 33 knots were expected to buffet the coast and churn up the surf along the coast line. A small craft advisory was issued for early Thursday morning through early Saturday morning.
Once the first storm front moves through the area Saturday, a second potent storm was following close behind and would begin drenching the area with showers on Sunday through early Monday morning.
Coastal and elevated areas of Mendocino County could see anywhere from 10 inches to a foot of rain by the time storms move through on Monday.
Residents living in Santa Rosa and cities south to the Golden Gate Bridge could get between 4 and 8 inches of rain.
San Francisco will get its first significant rain of the year with 2-3 inches a possibility. The last measurable rainfall in San Francisco was on Dec. 24th.
However, the storms will provide little relief for the Sierra ski resorts. Forecasters said the incoming storms were being accompanied by warm temperatures and that the snow levels over the weekend will be in the range of 7,000-8,000 feet.