Winter wonderland: Snow blankets Yosemite as hopes for Sierra snowpack are high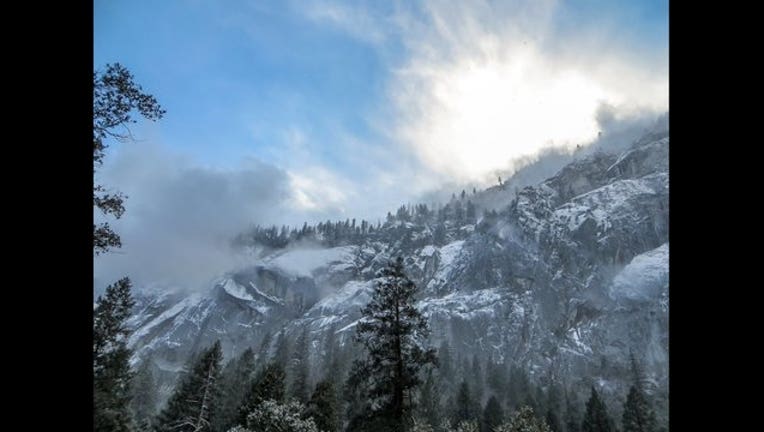 article
YOSEMITE NATIONAL PARK - Snow blanketed Yosemite National Park on Friday as the National Weather Service predicted as much as five feet of snow would cover the Sierra Nevada by the end of the weekend.
It was a marvelous sight for skiers and for those watching the water pack level, which revealed a snow-water equivalent of 2.6 inches on Feb. 1, or 14 percent of the historical average. 
Frank Gehrke, chief of the Department of Water Resources' California Cooperative Snow Surveys called the measurements "anemic," but he had high hopes for a wetter March.  The next reading will be on Monday.
Meanwhile,  more than three feet of  new snow in the Sierra and winds gusting to nearly 150 mph over the ridge tops temporarily shut down Interstate 80 on Friday and forced the cancellation of schools and state offices from Reno to Lake Tahoe.
A blizzard warning expired Friday but whiteout conditions were still possible around Lake Tahoe, where a winter storm warning remained in effect until 10 a.m. Saturday, the National Weather Service said.
I-80 reopened Friday morning but chains or snow tires were required from west of the California-Nevada line across the top of the Sierra, and on all major mountain passes.
"Strong winds will cause whiteout conditions in blowing and drifting snow at times," the Weather Service in Reno said Friday. "Avoid travel if possible. You could be stuck in your vehicle for many hours."
Four feet already had fallen at Mammoth Mountain south of Yosemite National Park by Friday morning. A 146 mph gust of wind was recorded Thursday night atop Squaw Valley resort on the north end of Lake Tahoe, with a gust of 137 mph  at neighboring Alpine Meadows.
Three feet of snow was measured at the Kirkwood resort south of Lake Tahoe and at the Mount Rose ski resort on the southwest edge of Reno.
The biggest storm of the season prompted one area ski resort to postpone a ceremony planned Saturday to celebrate the accomplishments of several Lake Tahoe-area Olympians just back from the Winter Games in South Korea.
Snowboarders Jamie Anderson, who won gold and silver medals, Maddie Bowman and Hannah Teter were among those scheduled to attend the daylong event at Sierra-at-Tahoe south of the lake.
The Associated Press contributed to this report.