Woman: 'I was hunted, almost stuffed in a trunk' on Monterey Co. bike ride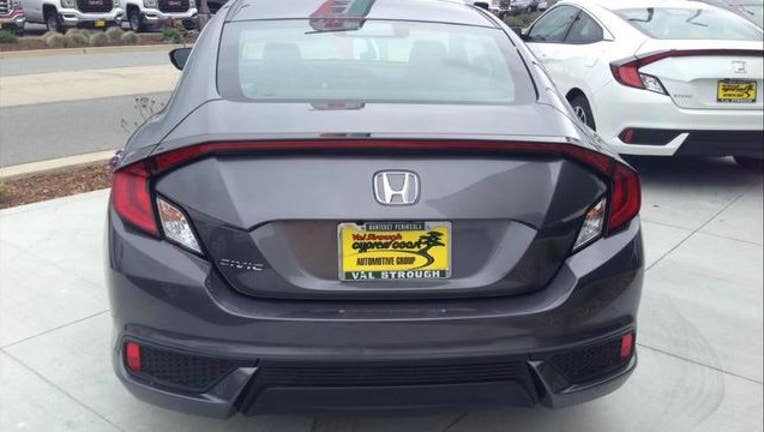 MONTEREY COUNTY, Calif. (KTVU) - A Monterey County woman is warning others after she says was "hunted," and almost stuffed into a trunk of a car. 
The woman, who would like to remain anonymous, was biking Sunday in a remote area of Monterey County when she was approached by a man in a car. 
The woman was on Robinson Canyon Road when a gray Honda Civic passed her. It was close, but the road was narrow so she didn't think much about it. That's until she continued her climb and saw the man out of his car on the side of the road. "This immediately put me on edge, as most of the time, this means the driver is angry and wants to have words," she said. 
The man claimed he needed directions and wanted to know where the road led. It was difficult to come to a stop on that portion of the road, but the woman didn't want to be rude so she spoke with the man. She explained there was a gated community at the top of the hill with security guards. He asked the woman if they would be able to see the guards up the incline, and asked if he could use her phone.  
The woman, beginning to feel uncomfortable, wouldn't let the man use her phone.
As she clipped back in to continue her climb she decided she should listen to her gut to get out of there. "(I tried) to tell myself how much I would enjoy the last - steepest - bit of the climb. But something was wrong."
The woman turned around to head home. "As I descended, I knew I had done the right thing." A few minutes into her descent she heard a car behind her. 
The woman looked over her shoulder and saw it was the man again. Even though she was already on the far right side of the road, he began drifting toward her. She didn't have any pavement left and was forced to stop. 
The man had the passenger window down and was asking for another favor. The woman says she was angry and scared. She began to think about how she could defend herself. They were in such an isolated location, she had nowhere to go. 
"I looked into the car and asked him what he needed. He said, 'oh, I need to move something in my trunk, can you just help me out with that?' I honestly almost laughed out loud in disgust, fear and anger. I wanted to ask if I looked stupid enough to just load myself in his trunk, and make it an easier crime for him. But I didn't," she said.
The woman told the man her husband had just called, and was upset she was making him and a group wait for her at the base of the climb. She said she needed to go.
"And he drove off. And left me standing on the side of the road, shaking in rage and fear. I knew that it wasn't safe to continue to descend, as now he was in front of me and could set up a road block and try to grab me or hit me," she said.
When the woman saw another car headed in her direction she flagged it down. A couple agreed to escort her down the climb with the woman taking the lead. After a few corners they found the man parked in the middle of road. "All of his doors (were) open. I couldn't believe it. We made it down to the bottom and I stopped to thank my angels. They were horrified. That was when I realized, truly realized, what had just happened. I was being hunted. And there was nothing I could do about it."
The woman made it home safely as sheriff's deputies flooded the area, searching for the man.
The woman is warning others that bad things do happen in her "small, friendly and beautiful corner of this world." She says to trust and listen to your gut. 
She adds, never be afraid to ask for help. "I hate to bother people and I was worried that the couple in the car who escorted me down, would think I was a complete loon. Who cares! It got me home safely."
The Monterey County Sheriff's Office tells KTVU they are investigating the incident as an attempted abduction.
They are searching for the suspect's car which is described as a gray Honda with Sam Linder paper plates, although the plates could be changed by now. 
Anyone with information on this case is asked to call the Monterey County Sheriff's Department.