Woman killed on downtown Oakland sidewalk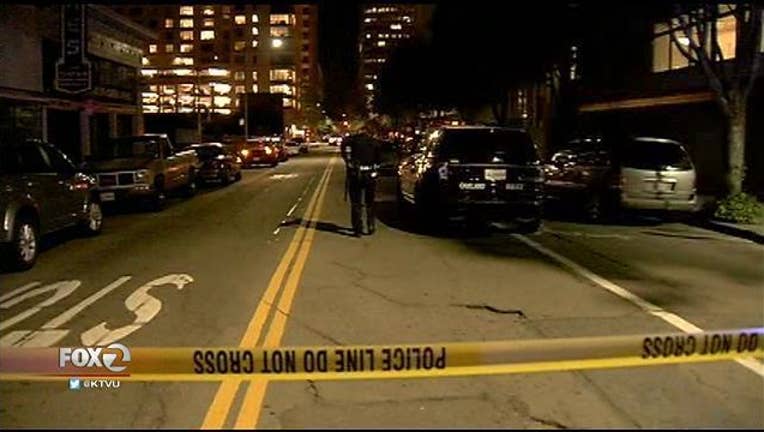 article
"She has gym attire on, " OPD Lt. Roland Holmgren told KTVU at the scene, "and we're trying to identify the victim. We're having a hard time with that now."
Holmgren said the middle-aged victim was wearing work-out clothes, but didn't have a purse or gym bag with her.
The sidewalk where she was stabbed is on Webster Street between 23rd and 24th Streets, on the back side of the YMCA building which has its entrance doors on Broadway.
It's unknown if the woman was going to or coming from the gym when she was attacked.
Police spent several hours canvassing for witnesses and surveillance video in the commercial district.
"It's actually a pretty nice area," YMCA member Alberto Frausdo told KTVU as he walked to his car, "and it's pretty weird to see crime like that happen here."
At the front desk of the YMCA, staff deferred questions to upper management, but as the facility closed for the evening at 8 pm, clients and employees walked past the still-active crime scene.
"That's scary, very scary," staffer Sharon Lilly told KTVU, "it's a good neighborhood, not like Telegraph where I'm going. "
Added YMCA member Chuck Mays, "it's a pretty cool area, this Y is a safe place."
The stabbing occurred shortly before 4 pm, and as forensic investigators processed evidence, the block was cordoned off, leaving parked cars stuck on the street and in an adjacent parking garage.
By 9pm, the Alameda County coroner had removed the victim's body, and access was restored.
"It's not an area you expect that kind of crime, that time of day" Sam Eisenberg told KTVU, after giving a statement to police. He arrived for a workout and parked on Webster Street about a half hour before the homicide.
"There was another car, right in front of my car, that's not there right now," Eisenberg observed. "That could be the unusual thing."
At this point, detectives don't know if the woman was alone, or with others when she was attacked, and whether the motive was robbery or something else.
"What I do know is we will be exploring every possibility," declared Lt. Holmgren "whether this was random or whether she was targeted, in this early stage, we have yet to determine."