World sugar shortage due to extreme weather threatening Halloween candy prices
Extreme weather has dealt major blows to the sugar industry worldwide this year, which could cost you more cash to fill up the trick-or-treat bags.
"This has been a very tough year for global sugar. If you look at the top ten producing countries this year, six of them have had extreme weather," Chief Meteorologist at Everstream Analytics, John Davis, told FOX Weather. "And the ramification of that is higher prices for anything that you use sugar for, including candy." 
He points to drought in Thailand, the fourth-largest producer, cutting production by almost a quarter. India, the U.S. and Europe suffered flooding, representing the second, sixth and third top producers. Everstream said that extreme weather is expected to decrease the global sugar supply by 10% to 15% over the 2023/24 growing season. The U.S. Food and Drug Administration estimates global production for the season to be 187.9 million tons.
EXTREME RAIN, DROUGHT DECREASES WORLD'S SUGAR SUPPLY
Pakistan and Mexico have also been dealing with drought. China had devastating rainfall.
"And, of course, all of the extreme weather that we've had on a global basis, it has come at the wrong time," Davis said. "If you get heavy rains during harvest, that interferes with the harvest activity and damages the crop overall. But it all comes back to the amount and frequency of extreme weather that we've had on a global basis." 
In the past year, sugar prices increased by 42%. Sugar prices are at a 12-year-high of 31.54 cents per pound, according to the International Sugar Organization.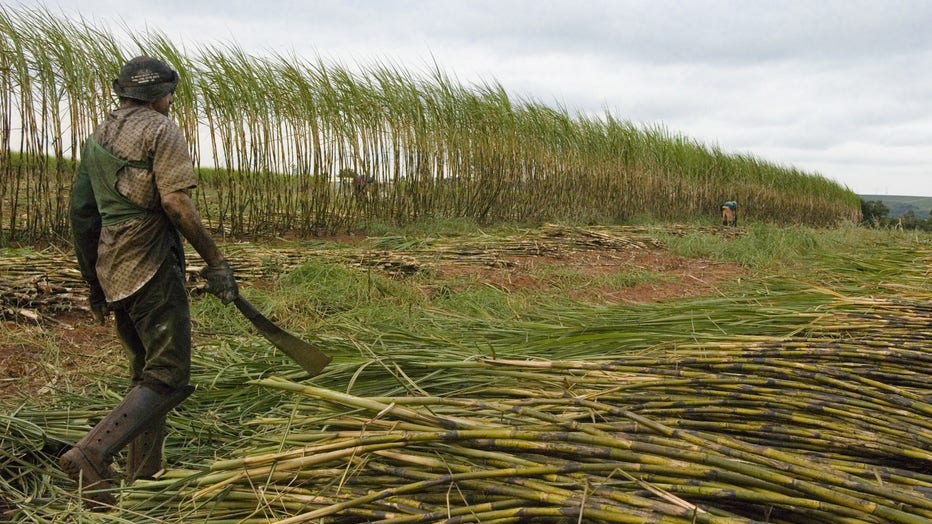 A sugarcane farmer works at field on World Farmers' Day in Tangua, a city in the interior of Rio de Janeiro, Brazil on May 13, 2023. (Photo by Fabio Teixeira/Anadolu Agency via Getty Images)
"Sugar prices are the subject of conversation, but we are not in a scarcity situation with sugar supply, and we don't anticipate any disruptions," Todd Scott, senior communications manager at The Hershey Company, told FOX Weather in July. "Similarly, the price of sugar does not have an impact on our Halloween."
And it is not just Halloween candy and baked goods seeing a price hike. Sugar can be used to make ethanol fuel. It is a food staple and a preservative used in almost every food and drink category. It is used in medicine, wound care, cosmetics, pest control, bioplastic, building materials, paper products, herbicides, cement and adhesives, livestock feed and detergents. 
"Other sectors that use sugar, we talk quite a bit about energy, ethanol, things like that," said Davis. "So many different sectors out there have sugar as a key component." 
THINK GAS PRICES ARE HIGH NOW? IF ETHANOL DIDN'T EXIST, YOU'D PAY EVEN MORE
El Niño behind the last sugar price spike in 2011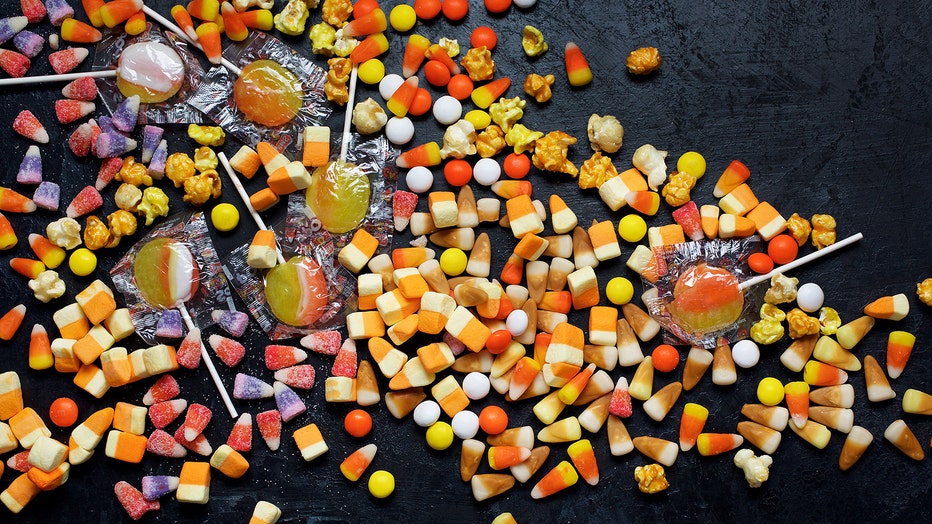 Candy Corn photographed in Washington, DC on October 9, 2018. (Photo by Deb Lindsey for The Washington Post via Getty Images)
Sugar subsidies kept the price artificially low, so farmers replanted with higher-earning crops after the new turn of this century. Then Europe slashed sugar subsidies in the mid-2000s.
"2008/2009 saw the biggest ever decline in global sugar production," stated financial firm Vikingen.se. "World production fell by almost 20 million tons."
In mid-2009, an El Niño event formed, and the world leader in sugarcane production was hit hard. 
"The Brazilian sugar cane crush in July, August and September was affected by wet weather, resulting in the world losing 1.5 million tons of sugar production," stated Vikingen. "This sugar was urgently needed in India and elsewhere. As a direct result, the price of raw sugar rose to 30 cents per pound in February 2010."
The Northern Hemisphere's sugar producers were plagued with dry weather.
HALLOWEEN CANDY SHORTAGE? CHOCOLATE MAKER CREATES SCARE
"Aging sugarcane and drought until mid-2010 resulted in low agricultural harvests. About 560 million tons of sugarcane were harvested, down from initial hopes of 590 million tons. In Australia, heavy rains forced growers to leave almost 20 percent of the sugarcane crop in the ground," wrote Vikingen. "The EU harvest was disrupted by early winter conditions that left some beets unharvested while the Russian harvest was destroyed by drought and extreme heat during the summer."
Sugar hit around 36 cents per pound in 2011.
Strong El Niño forecast through winter
With a strong El Niño forecast through winter, analysts expect the sugar shortage to continue into 2024.
"It's going to be something that's going to take a long time to rectify," Davis said.