Zobrist's grand slam lifts A's to 5-3 win over Tigers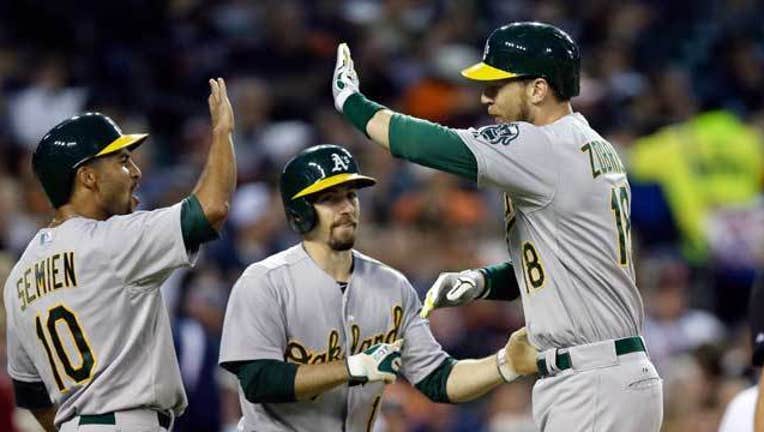 article
DETROIT (KTVU-AP) -- Ben Zobrist figured his line drive with the bases loaded was hit hard enough to go over the right fielder's head.
When it cleared the wall as well, the Oakland Athletics had the lead.
Zobrist's grand slam highlighted a five-run seventh inning for Oakland as the Athletics rallied for a 5-3 victory over the Detroit Tigers on Tuesday night. It was by no means a towering shot, but it reached the first row of fans above the wall.
"I didn't think it was going to clear, to be honest, when I hit it, but I knew I hit it hard enough to get over his head," Zobrist said. "So I was just happy about that."
Alfredo Simon (5-3) held the A's to one hit over the first six innings, but the Tigers scuffled defensively in the seventh, and Oakland had the bases loaded with one run already in when the right-hander was pulled. Angel Nesbitt came on in relief, and Zobrist greeted him with a drive to right.
Replays showed a young fan catching the ball in his glove and then holding it up with his other hand before being hugged by those around him. Then the boy almost immediately began to look distraught, as if the home run's impact on the Tigers had set in.
Kendall Graveman (3-2) allowed three runs and eight hits in six innings. Evan Scribner pitched two perfect innings of relief, and Tyler Clippard finished for his eighth save.
Simon allowed four runs and four hits in 6 1-3 innings. He walked five and struck out six.
The Tigers have lost a season-high five straight. Last-place Oakland has won four of five.
With the A's down 3-0, Oakland's Brett Lawrie led off the seventh with a single and advanced to second on a wild pitch, and Marcus Semien hit a one-out grounder that shortstop Jose Iglesias fielded while ranging well to his right. Iglesias flipped the ball toward third to try to get Lawrie, but Nick Castellanos couldn't handle the bouncing throw.
Eric Sogard followed with a grounder to second, but after moving to his left to field the ball, Ian Kinsler passed up an easy out at first and threw home instead — but the runner held at third.
"It was just a complete reaction play," Kinsler said. "I had to pick up a tough hop and turn toward the outfield, and my first look was at second base, to see if I could get an out there, and I couldn't. And as I was continuing to move, to throw the ball to first, I saw (Lawrie) take three hard steps, and I just reacted to the play."
That fielder's choice loaded the bases, and Billy Burns singled to make it 3-1, chasing Simon. Then Zobrist connected for his first grand slam since 2011.
The A's lead the major leagues with 52 errors, but this time they were the ones capitalizing on another team's problems.
"It had to turn around," Zobrist said. "It's been turning around gradually. We're fighting and battling to try and get back to the kind of team we know that we are."
The Tigers were swept by the Los Angeles Angels in a four-game series out west, and they're in third place in the AL Central after winning the division the last four years. Manager Brad Ausmus juggled the lineup Tuesday, moving Iglesias to the No. 2 spot and dropping Kinsler to fifth.
Detroit scored three runs in the fourth. With the bases loaded and two out, Graveman threw a two-strike wild pitch to bring home the game's first run. Castellanos then hit a two-run single.
WILD RIDE
Simon walked two in the first and three in the fourth, but he did not allow a hit until the fifth.
When the A's gave themselves another chance for a big inning in the seventh, Zobrist came through with the decisive hit.
"The way he changes his tempo with his change of speeds, different pitches he uses — oh yeah, he can throw 95 also," A's catcher Stephen Vogt said. "But we feel, when guys are a little bit erratic like that, we feel like as long as we stick to our plan and our approach, we're going to get guys on base."
TRAINER'S ROOM
Athletics: RP Eric O'Flaherty (shoulder) was reinstated from the DL. ... Manager Bob Melvin said LHP Drew Pomeranz (shoulder) should be activated soon and will join the bullpen.
Tigers: RHP Justin Verlander (triceps) will make a second rehab start with Triple-A Toledo on Saturday. ... C Alex Avila (knee) has resumed baseball activities.
UP NEXT
Oakland RHP Sonny Gray (6-2) takes on Detroit RHP Anibal Sanchez (3-6) on Wednesday night.