Belly of the beast: Zookeepers reach into crocodiles' stomachs to find missing bottle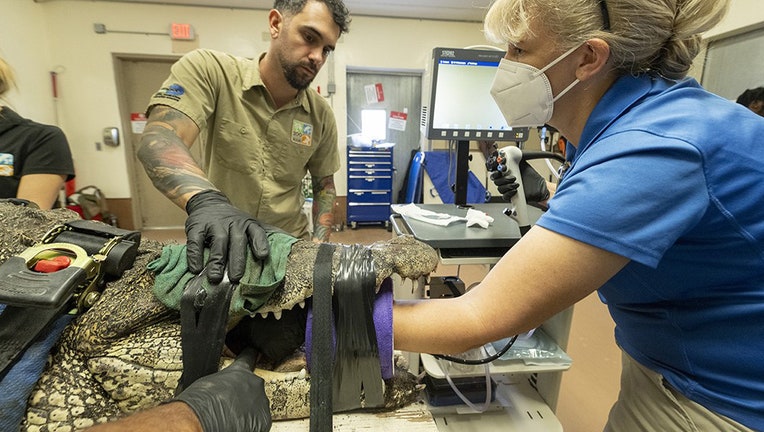 article
MIAMI - Veterinarians at a Florida zoo reached deep into the belly of the beast this week to try and recover a plastic bottle likely swallowed by one of their Cuban crocodiles.
Zoo Miami officials said the "highly endangered"  crocodiles were sedated and brought to the zoo's animal hospital after zoogoers reported that a plastic bottle had fallen into their habitat. When staff looked for the bottle, it was nowhere to be found and "assumed to have been consumed."
"If it could not be naturally passed, it could potentially cause digestive obstructions which could lead to serious complications and even death," zoo officials said.
Dramatic photos show workers using an endoscope to look closer at their stomachs after radiographs revealed unidentified objects in both crocs.
READ MORE: Zoo Atlanta hawk killed by wild animal, officials say
Doctors were able to see Leroy the male's stomach and didn't find anything significant. They weren't able to look closer at Princess the female's stomach despite several attempts, but it appears Princess may have swallowed a large bottle cap.
Credit: Ron Magill, Zoo Miami
"It was decided that since the foreign item was of a smaller size, she would be carefully observed in hopes that she would be successful in passing it naturally," zoo officials said.
This isn't the first time Leroy and Princess have had to be treated for swallowing foreign objects. Leroy had to go under the knife in 2019 to remove a metal can, and Princess had a baby bottle removed using an endoscope.
READ MORE: Mini horse spotted in car at McDonald's drive-thru
"Over the years, everything from cell phones to sunglasses have been retrieved from the bellies of animals at the zoo, causing significant stress and in some cases, physical harm to those animals," zoo officials said. "Whether by accident or on purpose, when these items end up in the zoo's habitats, they often present a real threat to the health and well-being of the animals that live there. We ask that when visiting the zoo, please ensure that all personal items are secure to prevent them from ending up in habitats where they can be extremely harmful to the animals."