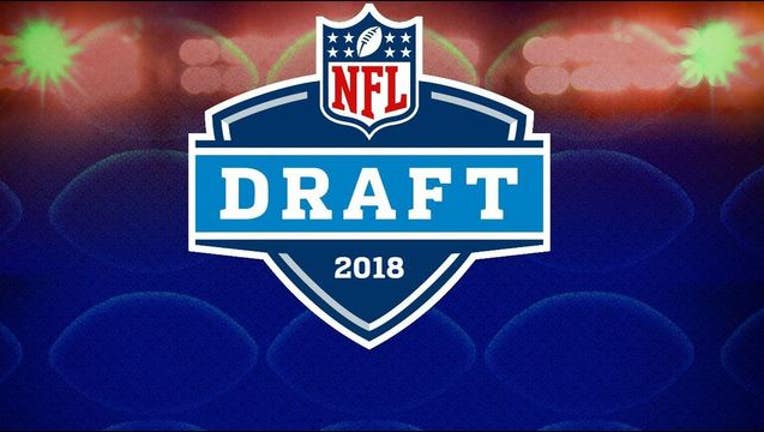 OAKLAND, Calif. - It's finally here! Christmas in April. The first round of the NFL draft kicks of tonight. Here's how I see it breaking down (note: I don't like mocking trades, so I kept everybody at their currently assigned pick):
Cleveland Browns – Sam Darnold, QB, USC
Speculation this morning is that Baker Mayfield will be the pick here. I'm not a fan of his. For the sake of Browns fans, I'm hoping they grab Darnold. Darnold is the best "prototype" QB available in the draft.
New York Giants – Saquon Barkley, RB, Penn State
If Darnold falls here, I could see the Giants grabbing their QB of the future and giving him a year or two to sit and learn behind Eli. With Darnold gone, the Giants make Eli & OBJ's lives easier by drafting arguably the best prospect in the draft.
New York Jets – Baker Mayfield, QB, Oklahoma
Mayfield screams Manziel 2.0 to me. But NFL teams seem to be enamored with him. There's no doubt the Jets need a QB for the future. I'd rather see Lamar Jackson or Josh Rosen go here, but I think this is the pick.
Cleveland Browns – Bradley Chubb, EDGE, N.C. State
The Browns would love to see the Giants take a QB at #2 and grab Barkley here. I don't think that happens. They "settle" for the best EDGE in prospect available this year to the #1 overall pick from last year. This should be a ferocious pass rush for years to come.
Denver Broncos – Quenton Nelson, OG, Notre Dame
Arguably the second best prospect in the draft behind Barkley (if not THE best), the Broncos get a dominant interior offensive lineman. You typically don't see a player at this position going top5. But anytime you can grab a guy and forget about his position for 12 years, you do it. Nelson does that for Denver.
Indianapolis Colts – Roquan Smith, LB, Georgia
I think there's a very good chance the Colts trade out of this spot. Especially if the draft has unfolded as I predict above. Buffalo & Arizona are the two most likely teams, in my opinion, to try to get to this spot to grab a QB. I hate mocking trades, so I give the Colts a freak athlete at LB who should help improve their defense greatly.
Tampa Bay – Derwin James, S, Florida
The Bucs secondary is in dire need of help. He is a force in the secondary, and will help improve a unit that was 32nd against the pass last year.
Chicago Bears – Tremaine Edmunds, LB, Virginia Tech
Edmunds is young. Very young. At 19 years old, he still has so much room to grow. Already built like a prototype LB for the NFL (6'5", 253 lbs), Edmunds has no ceiling. He should help solidify the Bears front 7 on day one.
San Francisco 49ers – Denzel Ward, CB, Ohio State
One of the best DB's in the draft, the 49ers grab Ward with the 9th pick and pick up a superb talent who will start opposite of Richard Sherman on day one.
Oakland Raiders – Mike McGlinchey, OT, Notre Dame
With the top2 LB's off the board already, the Raiders find themselves in a tough spot. Do they draft somebody ahead of where they should? Do they trade back? Raiders aren't likely to be a fan of it, but in this scenario, I think they grab the eventual Donald Penn replacement, who starts at RT in his rookie year.
Miami Dolphins – Josh Rosen, QB, UCLA
In my eyes, Rosen is the third best QB in the draft behind Jackson (1) and Darnold (2). The Dolphis are thrilled he's lasted this long and grab him, even though Tannehill is still in town.
Buffalo Bills – Josh Allen, QB, Wyoming
The tweets that surfaced this morning from Allen's past could cause him to slide. With Darnold, Mayfield, and Rosen off the board, the Bills take a swing at Allen hoping he can move past those tweets and develop into their QB of the future.
Washington – Minkah Fitzpatrick, S, Alabama
Washington gets a versatile DB that can do it all and instantly upgrades every level of their defense.
Green Bay Packers – Marcus Davenport, EDGE, UTSA
The Packers need help getting to the QB. Davenport is the third best EDGE rusher in my eyes, behind Chubb & Landry, but seems to be considered more favorably by NFL evaluators according to the draft media. Davenport steps in and starts from day one.
Arizona Cardinals – Lamar Jackson, QB, Louisville
Arizona lands the best QB in the draft at 15. Rejoice, Arizona. You've just got the most exciting and unique QB prospect, arguably, since Mike Vick entered the league.
Baltimore Ravens – Calvin Ridley, WR, Alabama
The Ravens would loooooove to see Jackson available here, but I don't see that happening. If he's available, I think they pounce. In this scenario, the Ravens grab one of the best receiving prospects available this year (I like Sutton the best, personally) as they continue to revamp their wide receiving core.
Los Angeles Chargers – Vita Vea, DT, Washington
The Chargers are jumping out of their socks that Vea is available here. They plug him in on the interior DL between outstanding edge rushers Bosa (who, I admit, I was very wrong on when he was coming out) and Ingram. Their run defense gets a huge boost, and Vea should see plenty of favorable matchups since there will be so much attention focused on the outside.
Seattle Seahawks – Josh Jackson, CB, Iowa
The Seahawks hit the reset button on the legion of boom when they parted ways with Richard Sherman. Now, they grab an exciting and athletic CB prospect they hope will develop into a shutdown corner.
Dallas Cowboys – Courtland Sutton, WR, SMU
The Cowboys have a glaring need at WR after cutting Dez Bryant. Sutton is my favorite WR in this draft, and appears to have the highest ceiling. The Cowboys will hope they can bring him along quickly and grow with Dak Prescott.
Detroit Lions – Harold Landry, EDGE, Boston College
Detroit gets the player who could turn out to be the best pass rusher in the draft when it's all said and done… And they didn't have to move up for him.
Cincinnati Bengals – Frank Ragnow, C, Arkansas
I have a feeling the Bengals could surprise a lot of people and move up for a QB. If they don't they need to fix their porous offensive line to get what they can out of Dalton and help open holes for Mixon.
Buffalo Bills – James Daniels, C, Iowa
The Bills have needs along the OL, and want to protect Allen, who they hope is their future.
New England Patriots – Kolton Miller, OT, UCLA
I don't like predicting anything New England will do… Because… Who actually knows what they'll do outside of Bill Belichick? Who even knows what he might actually be thinking? They probably want to find a QB to groom behind Brady, but they go OL here to keep Brady upright while they've still got him.
Carolina Panthers – D.J. Moore, WR, Maryland
Cam needs more weapons, and that's what the Panthers have nabbed for him here. Moore could take over as his number one target in his rookie year.
Tennessee Titans – Rashaan Evans, LB, Alabama
The Titans are a wild card this year. I could very well see them grabbing Vander Esch here, but there are reports his medical is scaring some teams away. Tennessee needs help at ILB and Edge. Evans is talented and versatile. He should step in a starter at ILB on day one, and be moved around quite a bit.
Atlanta Falcons – Taven Bryan, DT, Florida
Taven is a versatile DL, and will step in on day one and help the Falcons defense immediately. He can be moved around the DL and help against both the run and the pass.
New Orleans Saints – Leighton Vander Esch, LB, Boise St.
New Orleans gets a steal here, and Vander Esch is a great athlete who should be a three down LB for a long time, as long as his neck checks out.
Pittsburgh Steelers – Jaire Alexander, CB, Louisville
I feel like the Steelers have been working on their defense, and especially the secondary, for a long time. They do it again here, with a prospect that was elite when healthy in college.
Jacksonville Jaguars – Hayden Hurst, TE, South Carolina
As long as Bortles is going to be the QB, he's going to need an outlet receiver he can count on. Hurst is going to be very good for a long time, and make Bortles' life easier.
Minnesota Vikings – Will Hernandez, G, UTEP
Hernandez will instantly step in and help the Vikings protect their investment in Kirk Cousins, and open holes for Dalvin Cook.
New England Patriots – Derrius Guice, RB, LSU
The Patriots have a lot of running backs, but they don't have a lot of talented ones. James White is the best of the bunch after losing Dion Lewis to Tennessee. James White is still around, but they are lacking a guy that can run it consistently inbetween the tackles (with success).
Philadelphia Eagles – Sony Michel, RB, Georgia
This pick is typically a hot zone for trades, as somebody could move up into the first round to grab somebody they like and have the luxury of being able to exercise the 5th year option down the road. For this scenario, the Eagles stay put and grab Michel to pair with Ajayi.