49er Bruce Miller pleads not guilty to smashing ex-fiancee's phone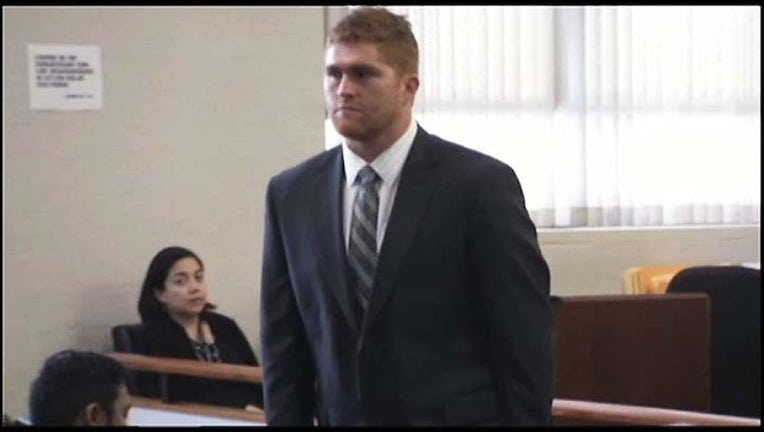 Miller, 27, appeared in Santa Clara County Superior Court in San Jose in a gray suit with his attorney Josh Bentley to be arraigned on the charge by Judge Cynthia Sevely.
While Miller was only charged with vandalism, the case is related to a domestic violence matter because "the property that Mr. Miller damaged belongs to somebody with whom he had an intimate relationship," Deputy District Attorney Jim Demertzis said.
Miller is out on $10,000 bail and Sevely issued a no-contact protective order between Miller and the victim who was not in court Monday.
Demertzis told the judge that the victim wanted to have "peaceful" contact with Miller.
The judge said the victim could request to have the order changed if she appears at the next hearing, scheduled for May 26.
On March 5, Miller and his former fiancee, who is not being identified, argued in the parking garage at the Hyatt House Santa Clara at 3915 Rivermark Plaza, Demertzis said.
The former fiancee initially told Santa Clara police that Miller pushed her out of a vehicle, then grabbed her cellphone from her and smashed it, he said.
She had no visible injuries, refused medical attention, did not complain of pain and later told officers that there had been no physical contact between the two, Demertzis said.
A witness, who was seated in a nearby bagel shop, reported seeing Miller and the former fiancee exit the garage on foot while arguing and that Miller threw a cellphone against an exterior wall, prosecutors said.
The witness then permitted the victim to use their phone to call police to complain about the damaged phone, according to prosecutors.
Santa Clara police conducted an investigation into the matter and concluded that there was nothing they could charge Miller with aside from misdemeanor vandalism, Demertzis said.
Any sort of property damage may be considered as vandalism, either felony or misdemeanor. In Miller's case, since the estimated value of the Apple phone was below $400, under state law it is considered a misdemeanor, Demertzis said.
Miller faces up to a year in jail if convicted, Demertzis said.
Miller was drafted by the 49ers in 2011 from the University of Central Florida. Last season, he caught 18 passes for 189 yards and two touchdowns and gained nine yards rushing on six carries.