49ers Hall of Famer Bob St. Clair dies at 84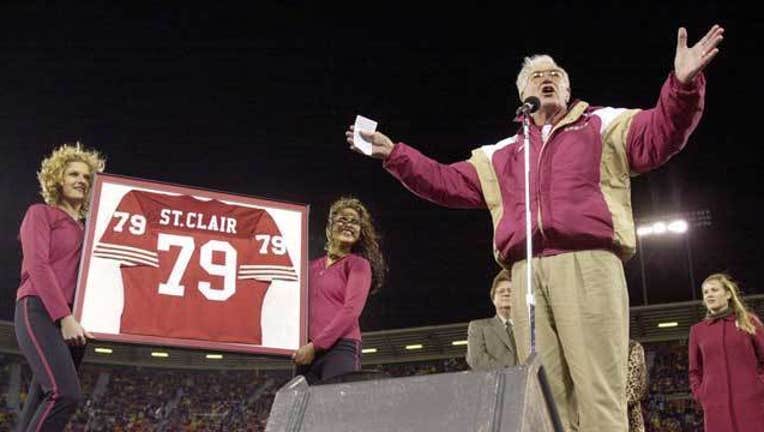 article
SAN FRANCISCO (AP) — Hall of Fame offensive tackle Bob St. Clair, a five-time Pro Bowler with a big personality who played all 11 of his seasons with his hometown San Francisco 49ers, died Monday. He was 84.
The Pro Football Hall of Fame, the 49ers and the University of San Francisco announced Monday that St. Clair had died.
A 6-foot-9 right tackle known for his speed, toughness and uncanny blocking ability in the passing and running games, St. Clair was a third-round draft pick by San Francisco in 1953.
He was inducted into the Hall of Fame in 1990 — 27 years after his final season of 1963 — and was nearly as famous for eating raw meat as he was for his football skills.
He shared with the Hall of Fame's web site in a 2000 online chat how he received his "The Geek" nickname.
"Because of my eating habits! There was a movie that came out with Tyrone Power where he was locked in a cage and called 'geek,'" he said. "They used to throw live chickens in there and that's where it came from ... However, I only let my friends call me that!"
"Bob was a true hero of the game and represented the many great values that the game teaches. He was a dedicated teammate, a true competitor, and a passionate and caring leader, to his community as well as his team," Hall of Fame President David Baker said.
"We are deeply saddened by his passing but he will be forever remembered in Canton as one of the all-time greats of the game. All of us who love the great game of football stand on the shoulders of men like Bob St. Clair."
The 49ers retired his No. 79 uniform at Candlestick Park in 2001.
"Huge loss for the 49ersFamily," 49ers CEO Jed York posted on Twitter. "We will miss you Bob St. Clair RIP Thanks for so many memories."
St. Clair played for the University of San Francisco's unbeaten 1951 team that took a stand against racism. He was one of eight future NFL players on that Dons team, which the school remembered that its "supreme triumph came in choosing not to accept an invitation to a bowl game under the condition the team played without its two African-American players, Ollie Matson and Burl Toler."
USF awarded each member of that team an honorary doctorate degree in 2005 for all the players did to take a stand against racism in what was considered a symbolic victory in college football.
"On behalf of the entire USF community, I would like to extend my deepest condolences to the St. Clair family on the passing of one of the greatest Dons of all time," USF athletic director Scott Sidwell said.
"Bob was a great San Franciscan who along with his '51 Dons' teammates, embodied the character and values of our university by taking a courageous stand against racism in the early 50s. He will be greatly missed."
A longtime resident of Sonoma County, St. Clair was born on Feb. 18, 1931, in San Francisco.