Athletics lose 5th in a row to Seattle, 4-3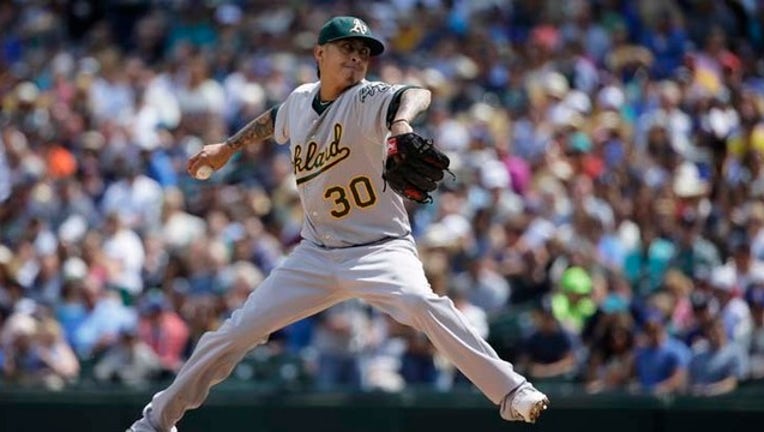 article
SEATTLE (AP) — The Oakland Athletics weren't able to reverse a losing streak against Felix Hernandez. They hope a return to their home park will do the trick.
The Athletics lost 4-3 against the Seattle Mariners on Sunday as Seattle's ace right-hander became the fourth-youngest player to reach 2,000 career strikeouts.
It was the fifth straight loss for Oakland, who were swept by the Mariners in the three-game series for the first time since August 2011. The Athletics are nine games under .500 for the first time since June 10, 2012, and are 8½ games behind Houston in the AL West.
Manager Bob Melvin was emphatic that he believes the team's fortunes will turn around when Oakland starts a six-game homestand Monday against Boston. The Athletics have played 20 of their last 26 games on the road.
"We're going to start winning when we get home. We are. Our record is not indicative of how good we are," Melvin said. "We need to start believing we are going to win."
Oakland's offense had a hard time getting anything going against Hernandez (6-0), who gave up two runs over seven innings. The right-hander started Sunday's game with 1,995 strikeouts. In the fifth inning, Hernandez fell behind leadoff batter Sam Fuld 3-1 before striking him out looking at a fastball for No. 2,000.
Hernandez, at 29 years, 32 days old, is behind only Bert Blyleven, Sam McDowell and Walter Johnson, who were all 28 when they reached 2,000 strikeouts.
Shortstop Marcus Semien was the exception. He hit two solo home runs off Hernandez for the first multi-homer game of his career. Semien gave the Athletics a 1-0 lead with his homer in the third inning, and added his fifth home run of the season in the sixth inning. The last time a player had two home runs in a game off Hernandez was Gordon Beckham for the Chicago White Sox on June 1, 2012.
"He threw a lot of strikes today, a lot of pitches in the zone," Semien said. "I just try and battle every day no matter who it is. He is one of the best in the game, he's got 2,000 strikeouts in his career. I've watched him a lot on TV, this is my second time facing him so I just want to continue to get better against him."
Oakland's other run came on a homer by Stephen Vogt in the ninth.
Oakland starter Jesse Chavez (1-3) pitched into the seventh inning, allowing four runs on five hits while striking out seven.