Bay Area lawsuit seeks safety netting for MLB ballparks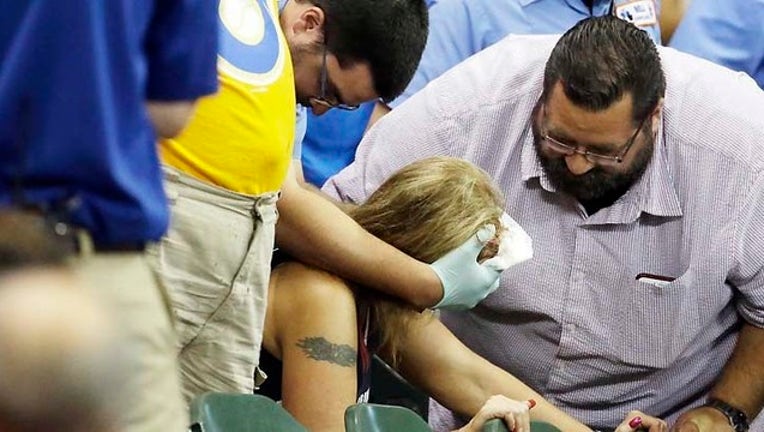 article
OAKLAND, Calif. (KTVU and wires) -- An Oakland Athletics season ticket-holder asked a federal court Monday to protect fans from flying bats and balls by ordering Major League Baseball to extend the safety netting at its ballparks the entire length of the foul lines.
The lawsuit filed in the Northern District of California seeks class action status on behalf of all fans buying season tickets in unprotected areas of major league parks. It is not asking for money; instead, it wants Commissioner Rob Manfred to extend the screens that typically cover only a few sections behind the plate so that they run from foul pole to foul pole.
"I think it's important when you have an issue like this not to monetize it, not to say it's about people trying to get a bunch of money," said Steve Berman, a lawyer with the Seattle-based firm of Hagens Berman who has also sued U.S. and international soccer authorities to force them to change the way they handle concussions.
The baseball lawsuit was filed on behalf of Gail Payne, who has been attending A's games since 1968 and purchased tickets this year for section 211 at the Oakland Coliseum. It claims that three or four foul balls each game enter her section, which is along the first-base line beyond the safety netting.
"She fears for her and her husband's safety and particularly for her daughter," the lawsuit says. "She is constantly ducking and weaving to avoid getting hit by foul balls or shattered bats."
In a statement, the commissioner's office repeated that it is discussing safety with the clubs. The players association could also become involved in the talks, the statement said.
"Fan safety is our foremost goal for all those who choose to support our game by visiting our ballparks, and we always strive for that experience to be safe and fan-friendly," the statement said. "Major League Baseball is in the process of re-evaluating all issues pertaining to fan safety, comfort and expectations."
The lawsuit claims that there are 1,750 preventable injuries per year caused by foul balls and broken bats. And it says that ballpark initiatives designed to attract younger fans — including mascots, video boards and the availability of wireless internet — create distractions that put children in even greater jeopardy.
"The league is distracting fans," Berman said in an interview with The Associated Press.
The lawsuit also faults baseball for allowing players to switch from ash bats to maple, which it says are more prone to shatter.
The lawsuit says that baseball failed to provide its teams with consistent guidelines for fan safety and failed to listen to the warnings of its players. It also says baseball failed to keep pace with other sports like professional hockey and NASCAR, which took safety measures to protect fans from pucks and debris going into the stands, and other countries like Japan, where protective netting is more common.
The NHL ordered its teams to install netting above the glass behind the nets in 2002 after a 13-year-old girl was killed by a deflected puck at a Columbus Blue Jackets game.
The lawsuit filed Monday catalogues the deaths and other serious injuries at baseball parks through the years, from the 32-year-old man killed in 1943 by a bad throw by Washington Senators third baseman Sherry Robertson, to last weekend, when a Brewers fan was hit in the face by a foul ball. It includes X-rays of one fan's shattered skull and a picture of Tonya Carpenter being wheeled off on a stretcher after being hit by a shard of a broken bat at Fenway Park last month.
"Every type of fan is constantly at risk of serious injury or death," said Robert Hilliard, another lawyer involved in the case. "If that foul ball is hit hard enough, reaction time is basically zero and life-threatening injury is certain. This is a needless risk. Extending the nets will, as a fact, save lives."
The lawsuit also cites news reports that players asked for more protective netting during negotiations over a new collective bargaining agreement in 2007 and 2012. A spokesman for the MLB Players Association did not immediately respond to a request seeking comment.
The suit cites quotes from players who say they would not allow their families to sit in unprotected areas.
"What better authority than the guys who are down there playing the games?" Berman said.