Bryan Lerg scores in NHL debut, Sharks beat Oilers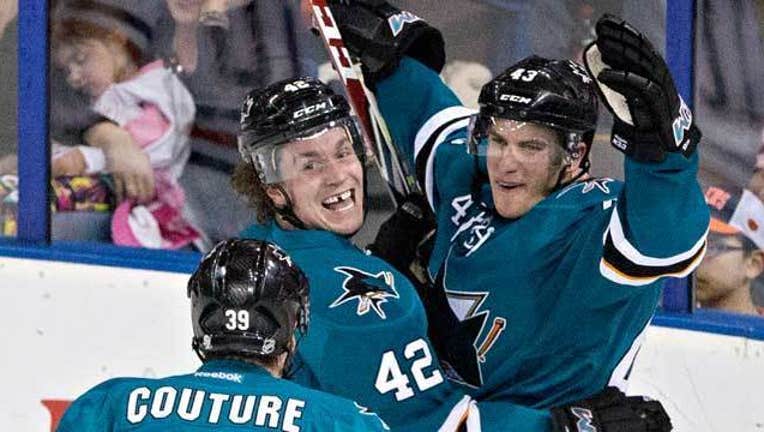 article
EDMONTON, ALBERTA — Bryan Lerg waited a long time to make his NHL debut. It was worth it.
Lerg scored the winning goal Thursday night as the San Jose Sharks defeated the Edmonton Oilers 3-1 in a game between two teams out of the playoff picture.
The 29-year-old Lerg could barely believe his good fortune, scoring with 2:52 remaining in the third period after playing 353 minor league games while waiting for his NHL shot.
"I have no words, honestly," he said. "I put it in and kind of blacked out from there. It felt good to score that one, let alone to play this game in general. It has been a long seven years waiting for this. To finish like that, it is pretty exciting."
Sharks forward Logan Couture set up Lerg on the play.
"It's been a tough year, but things like that make it fun," said Couture. "He's waited a long time for this day. It was awesome. It was the most excited I have been about a goal since probably an overtime playoff goal."
Sharks coach Todd McLellan said Lerg's story is a notable one.
"It is a lesson for a lot of us, not only in hockey, but in life," said McLellan. "To persevere and follow your dreams and you will get there eventually, and he got there tonight."
Patrick Marleau and Matt Nieto also scored for the Sharks, who snapped a two-game skid. Nail Yakupov responded for the Oilers, who have lost four of their last five.
Lerg wasn't the only player to make an impact in his NHL debut as Edmonton goaltender Laurent Brossoit made 49 saves and nearly stole the game.
"It's obviously not the way I wanted to end the game considering how it was going for me," said the 22-year-old Brossoit. "But I have to take out the positives. I wanted to show well and show what I could do, and I think I did that."
San Jose will miss the playoffs after qualifying for postseason play the last 12 seasons. The Oilers are on the outside looking in for the ninth straight year.
Edmonton killed a boarding major assessed to rookie Curtis Hamilton just two minutes into the contest. Brossoit was tested early and was forced to make 19 saves in the opening period.
Edmonton broke through in the second period as Sharks defenseman Justin Braun coughed up the puck in the slot right onto Yakupov's stick. He beat Antti Niemi glove side for his 13th.
Brossoit continued to stand out in the period, making a flurry of saves in the final minute, with Tomas Hertl also clanging a shot off the post.
The Sharks tied the game midway through the third on their 42nd shot. Justin Schultz gave the puck away to Marleau, who waited for Brossoit to go down before lifting it over him.
San Jose went up 2-1 as Couture sent the puck through traffic to Lerg at the side of the net. Nieto added an empty-netter.
NOTES: Both teams complete their seasons on the road on Saturday; the Oilers are in Vancouver and the Sharks travel to Los Angeles. ... In addition to Brossoit making his NHL debut for Edmonton, Hamilton was also playing his first NHL game. The Oilers have had 11 players make their NHL debuts this season.