Cavs hold off Warriors to take Game 3 96-91, lead series 2-1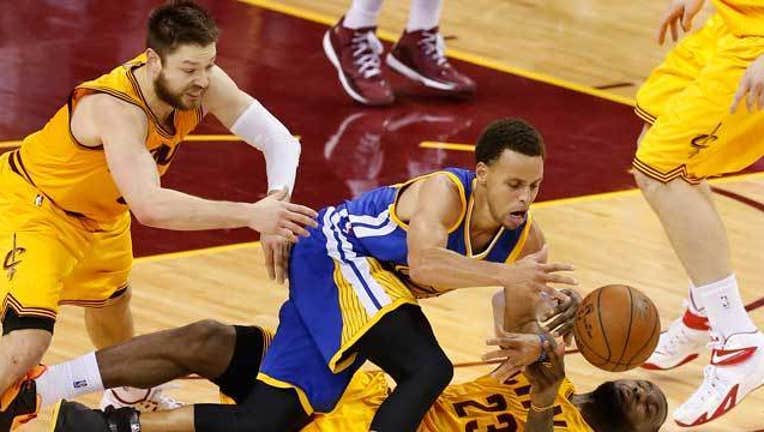 article
He's two wins away.
Pushed by a crowd howling to see Cleveland's 51-year title drought end, James scored 40 points, his new sidekick Matthew Dellavedova added 20 and the Cavaliers survived Golden State's furious fourth-quarter comeback led by Stephen Curry for a 96-91 win over the Warriors on Tuesday night to take a 2-1 lead in the NBA Finals.
James added 12 rebounds and eight assists in 46 minutes, his third stellar performance in his fifth straight finals. The Cavs, who won Game 2 at Golden State for their first ever finals win, now have their first at Quicken Loans Arena. They'll have a chance to take a commanding 3-1 lead in the best-of-seven series in Game 4 on Thursday night.
Cleveland nearly threw this one away.
The Cavs led 92-83 with 51 seconds to go, but got careless with the ball and Curry heated up.
The league's MVP finally found his shooting touch in the fourth quarter, scoring 17 points as the Warriors, who trailed by 20 in the third quarter, refused to go away. Golden State got a huge lift from reserve David Lee, but they rode Curry, who made five 3-pointers — his last with 18.9 seconds to pull the Warriorswithin 94-91.
Cleveland then caught a break when referee Danny Crawford blew an inadvertent whistle with 17.5 seconds to go after Golden State appeared to force a turnover. The officials, who have come under scrutiny for several missed calls in the series, then reviewed the play and it was clear that Klay Thompson was out of bounds when he made contact with the ball that Dellavedova was holding in his hands.
James was fouled and made two free throws with 16.8 seconds left. On Golden State's last possession, Andre Iguodala appeared to get fouled on a 3-point attempt and the Cavs pulled down the rebound to close out the win.
After the final horn, Warriors coach Steve Kerr came on the floor and gave an earful to Crawford and the rest of his crew, Marc Davis and Derrick Stafford.
Curry finished with 27 points, Iguodala 15 and Lee, who didn't play in Games 1 or 2, had 11.
James, who has had to play without injured All-Stars Kyrie Irving and Kevin Love, once again was helped by Dellavedova, the pesky Australian guard who hounded Curry for three quarters, dived on the floor for loose balls and came up with a huge three-point play, flinging in a layup with 2:27 left to put the Cavs up 84-80.