Error plagued A's fall to White Sox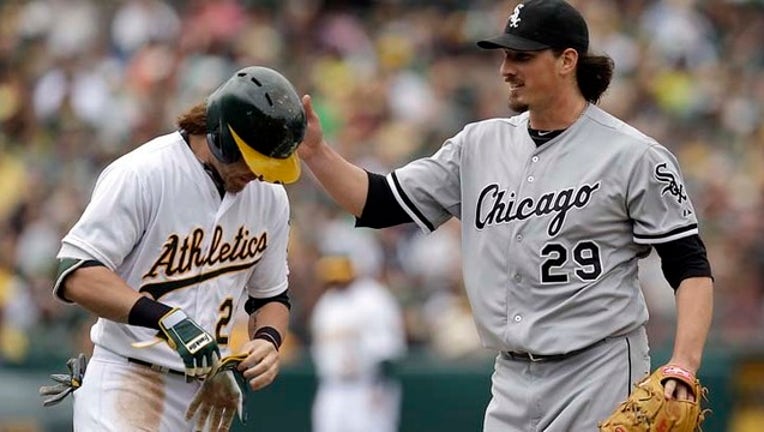 article
OAKLAND, Calif. (AP) - Scott Kazmir placed the blame on himself for failing to make enough good pitches and not fielding a bunt early on. He's not the only one making mistakes, though.
Oakland committed four more errors Sunday in a 7-3 loss to the Chicago White Sox  -- the Athletics' fourth consecutive loss and ninth in 10 games.
"I have to put my team in a better position," Kazmir said. "I didn't get it done. It's tough. We're out there giving it everything we have. Stuff is just not going our way. We feel like we're on the verge of making stuff happen. We're going through a tough stretch right now."
The White Sox swept the A's at home for the first time in 18 years, and former teammate Jeff Samardzija had a lot to do with the latest setback.
Samardzija (3-2) allowed three runs and eight hits over eight innings. He walked three and struck out five in his return to Oakland, where he made 16 starts for the A's last year.
"He's a guy who likes to take the ball and give the bullpen a rest on the days he pitches," A's manager Bob Melvin said. "I was surprised. Around the fifth I thought we could get him out of there earlier, and next thing you know, he's pitching the eighth. He's impressive."
Avisal Garcia hit a two-run homer, Alexei Ramirez had two hits and two RBIs for the White Sox, who reached .500 for the first time this season after winning their sixth straight.
The A's, who own the worst record in baseball, are 13 games under .500 for the first time since ending the 2011 season 14 games under.
Max Muncy hit his first major league home run, a two-run shot in the fourth, as the A's lost their fourth straight and fell to 1-12 in day games.
Kazmir (2-2) left with one out in the fifth after giving up five runs - three earned - and seven hits. He walked three and struck out six.
Kazmir's fielding error in the first led to Chicago's first run. Ramirez's two-run single in the fifth ticked off Kazmir's glove and deflected into left field.
"I wish I could have been a little more efficient early on and made a couple of plays," Kazmir said. "It would have been a totally different ballgame."
The A's increased their major-league lead in errors to 42. They have made at least one error in each of their last 14 games, 21 overall, the club's longest streak since a 17-game span in May 1982.
The errors have led to 29 unearned runs, most in the majors.
"I don't get tired talking about it. We just have to play better," said A's shortstop Marcus Semien, who made two errors. "Errors are a combination of things. It's never the same, not a mental thing. We still have time to get it right, get hot. Unfortunately it doesn't go my way every time. I'm working hard to get better."
Garcia hit his fourth home run of the year off A's closer Tyler Clippard in the ninth.