LSU unveils first female-athlete statue in honor of Seimone Augustus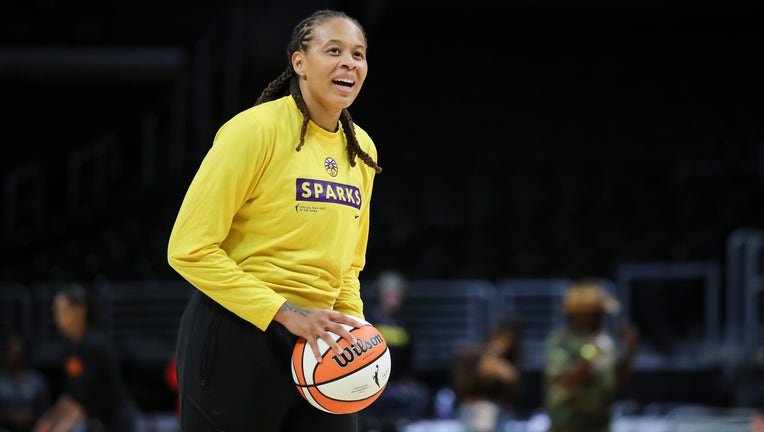 article
BATON ROUGE, La. (AP) - Seimone Augustus gazed up at the bronze likeness of her in front of LSU's basketball training center and began wiping away tears.
Augustus, who led the Tigers to three women's Final Four appearances before starring in the WNBA and in international play, became LSU's first female student-athlete to be immortalized with a statue on campus Sunday. Hers stands alongside those of former LSU basketball stars Bob Pettit, Shaquille O'Neal and Pete Maravich in a plaza that was packed with applauding fans during the unveiling.
"I'm still trying to process this," Augustus said as she addressed the crowd shortly before fifth-ranked LSU hosted Auburn in the nearby Pete Maravich Assembly Center. "It looks like the whole of Baton Rouge is out here. But this feels good.
"I used to have a teammate that said, 'I didn't do this by myself,'" Augustus continued. "And clearly, with everyone that's here, I didn't.
RELATED: Rule change: WNBA to allow coaches challenge next season
"I needed everyone one's support and love and protection ... and I just wanted to say thank you," she said. "Thank you for everything that you've done. Thank you to Baton Rouge, thank you to LSU, thank you to Louisiana. You've always been my motivation, my driving force in making sure that I excelled."
Augustus, a Baton Rouge native, emerged before the crowd wearing a brown suit and carrying a purple and gold parasol that she bobbed up and down to the beat of a "second line" brass band trailing behind her.
LSU second-year coach Kim Mulkey was among the dignitaries standing nearby. She hugged the emotional Augustus and spoke into her ear before heading back to the arena for the game. Former LSU teammate Sylvia Fowles also attended.
Augustus exchanged pleasantries and posed for photos with fans crowded up against barricades surrounding the statue before heading to the game, where she again was honored and greeted with rousing applause between the first and second quarters.
Augustus played at LSU from the 2002-03 through 2005-06 seasons. A two-time All-American who averaged 19.3 points during her career, she was drafted first overall in the 2006 WNBA Draft by Minnesota.
She was a four-time WNBA champion and eight-time All-Star during a pro career that ended in 2019. She also won three Olympic gold medals (2008, 20012 and 20016) with Team USA.