MLB hopes Rays, A's can get new ballparks in current markets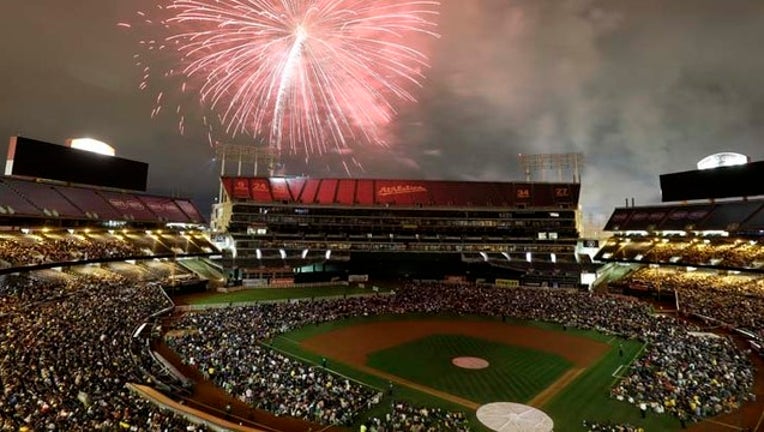 article
CINCINNATI (AP) — Major League Baseball remains hopeful the Tampa Bay Rays and Oakland Athletics will be able to obtain new ballparks without relocating yet will examine other markets in case a team needs to move or the sport decides to expand.
Tampa Bay is last in the major leagues in average home attendance at 14,731 and Oakland is 26th at 22,369. Twenty-two of the 30 clubs have opened new stadiums since 1990, and the Rays and A's are the only teams currently seeking new homes.
Oakland owner Lew Wolff hoped for a new ballpark in San Jose, California, but was thwarted by the San Francisco Giants, whose territory includes Santa Clara County. The 9th U.S. Circuit Court of Appeals ruled against San Jose in its antitrust suit against MLB, and the city has asked the U.S. Supreme Court to hear the case.
Manfred has been speaking with Libby Schaaf, who became Oakland's mayor in January, and representatives of Alameda County, where the city is located.
"I am encouraged by the attitude of the mayor," Manfred said Tuesday during a meeting of the Baseball Writers' Association of America. "I am hopeful that the process is moving toward giving the A's a concrete alternative for a new stadium in Oakland."
The A's are based in the Oakland Coliseum, which opened in 1966 and is the only venue still shared by MLB and NFL teams. The Rays play in St. Petersburg's Tropicana Field, which opened in 1990.
While the club has been in Pinellas County since starting play in 1998 and the club's lease expires in 2027, Rays owner Stu Sternberg would like to explore other sites in the area.
The St. Petersburg City Council in December rejected an agreement reached by Mayor Rick Kriseman that would have allowed to Rays to evaluate sites on the east side of the bay in Hillsborough County, where Tampa is located.
"We have an issue in Tampa. They put a great product on the field. The attendance is not what we would like to see, and we believe it is facility related. It's that simple," Manfred said.
"I find encouraging the fact that it seems that politicians in the area broadly defined are interested in getting something done and keeping the Rays in St. Petersburg-Tampa, or Tampa-St. Petersburg, whichever way you want to say it."
Manfred added "we will not get to the point of exploring relocation unless and until Mr. Sternburg and I in consultation or together reach the conclusion that it's not possible to get something done in the market where he exists now. We're not at that stage."
Montreal Mayor Denis Coderre met with Manfred in May and hopes to regain a club for his city. The Expos joined the National League as an expansion team for the 1969 season and remained in the big leagues through 2004 before moving to Washington and becoming the Nationals.
While the Expos failed to draw 1 million spectators to Olympic Stadium in any of their final seven seasons, a total of 96,350 fans attended a pair of March 2014 exhibitions between the New York Mets and Toronto, and 96,545 went to a pair of games between the Blue Jays and Cincinnati this year.
"It's a long way from two exhibition games to 81 home games in a facility that is consistent with major league standards," Manfred said.
MLB has not expanded since adding the Rays and Arizona Diamondbacks for the 1998 season, which raised the league's total to 30 teams.
"I think we are a growth business, broadly defined. And I think growth businesses over an extended period of time look to get bigger. So, yeah, I'm open to the idea that there will be a point in time where expansion may be possible," Manfred said.
Earlier this year, he said Portland, Oregon, and Charlotte, North Carolina, "have all checked in recently" regarding potential expansion.
"Because of the nagging threat of a need to relocate and because of expansion, or the possibility of expansion, I think it's really important for us to look at markets that are out there that are interested in baseball," Manfred said.
The sport intends to "examine their viability, think about what we can do to make them more viable, so that we have business alternatives that are available to us."