Moore loses no-hitter with 2 outs in 9th, Giants top Dodgers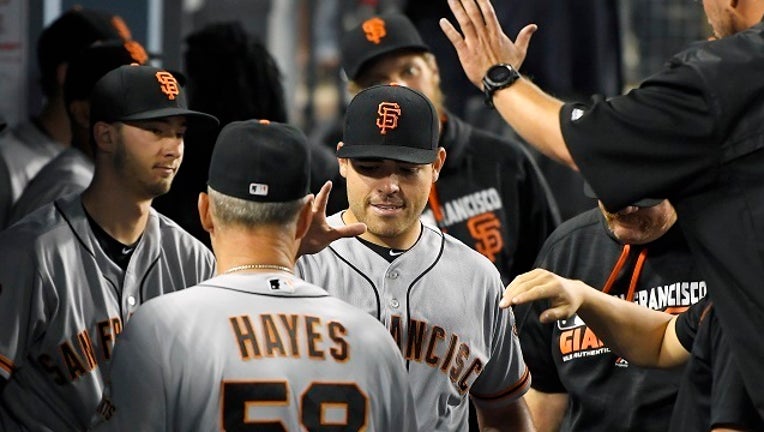 article
LOS ANGELES (AP) — - After losing his no-hit bid with one out to go, Matt Moore just smiled.
The San Francisco lefty gave up a soft, clean single to Corey Seager with two outs in the ninth inning, and the Giants beat the Los Angeles Dodgers 4-0 Thursday night.
"Giving up a base hit right there is a part of the game," Moore said. "It was a fun ride all the way up until that point ... there's not a lot to be angry about. I think the smile just kind of came out."
Moore's try ended on his 133rd pitch. It was Seager Bobblehead Night at Dodger Stadium, and a sellout crowd cheered Moore after the ball plopped onto the grass in shallow right field.
Moore was pulled immediately. Giants manager Bruce Bochy had been pacing in the dugout for a couple of innings as Moore's pitch count climbed — he missed most of the last two seasons after Tommy John surgery.
"He was excited to have a chance at it. He was very grateful and said, 'thanks, I appreciate you giving me a chance," Bochy said. "He didn't show any signs of frustration or disappointing end to give up a hit there. He pitched his heart out."
Asked about his emotions in getting the hit to break up the no-hitter, Seager said: "Not much. It's one of those things where you don't ever want that to happen. Like I said, we won the series, and you're still happy about that."
Giants center fielder Denard Span sprinted for two outstanding catches, including a leadoff grab in the ninth, to give Moore a chance.
Bochy said he was concerned about Moore's pitch count, but Moore had told him he felt great.
"He had everything working tonight," Bochy said. "He saved us from getting swept. It was the biggest game all year."
Moore earned his first win for the Giants since they got him in a trade with Tampa Bay on Aug. 1. The victory moved the Giants within two games of the NL West-leading Dodgers.
The 27-year-old Moore nearly gave San Francisco a major league record five straight years with a no-hitter. And he almost became the first Giants pitcher to no-hit the archrival Dodgers since 1915, when New York's Rube Marquard stopped Brooklyn.
Moore struck out seven and walked three. Reliever Santiago Casilla needed just one pitch to get the final out.
Moore retired 14 straight batters at one stretch and is now 1-3 in five starts for the Giants. He was 7-7 with the Rays when they dealt him at the trading deadline for infielder Matt Duffy and two minor leaguers.
This was Moore's 99th start in the majors, and his only previous complete game was a shutout. He came close to doubling that total, and a lot more.
Reigning NL Cy Young winner Jake Arrieta of the Cubs remains the only pitcher with a no-hitter this year, doing it at Cincinnati in April.
Ross Stripling (3-5) took the loss. In his major league debut earlier this year, he held the Giants hitless for 7 1/3 innings in San Francisco, but then manager Dave Roberts relieved him because of a pitch count.
The Dodgers won two of three games and didn't allow the no-hitter, something positive they can take from the game.
"I think in some weird way, it does," Roberts said. "They really wanted this game to salvage the series. I think there's a little something that salvages it for us in a strange way."
Obviously, they still got the victory, and we'll be ready tomorrow.
Joe Panik hit a two-run homer for a 3-0 lead in the fourth.
Span ran a long way into the left-center field gap in the second inning, reaching below his knee to catch a slicing drive by Adrian Gonzalez near the warning track.
In the ninth, Span rushed over to grab a sinking liner by Enrique Hernandez. Moore tipped his cap to the center fielder for the effort.
The Giants remain tied with the Dodgers for the most consecutive years with a no-hitter. Chris Heston threw one last year for San Francisco, Tim Lincecum did it in 2014 and also 2013 — with 148 pitches — and Matt Cain had a perfect game in 2012.
The Dodgers threw them from 1962-65, all by Sandy Koufax.
The Giants players reacted on social media to the near No-Hitter:
So stinkin close!! Big job by the left hander tonight @MattyMoe55 to pick us in time of need!!! Happy flight home & back at it tomoro..
What a valiant effort from my boy Matt Moore tonight! We needed a win like tonight.. #soclose
Wow @MattyMoe55 ! Hell of a job tonight man! Clearly the front runner for "best new guy" award! Hahahah #dominated #golefties
Hunter Strickland ‏@hstrickland60 
Unreal performance tonight by @MattyMoe55 . Fun to watch brother! #HappyFlight back to our home crowd @SFGiants