Nike drops Manny Pacquiao in wake of anti-gay statements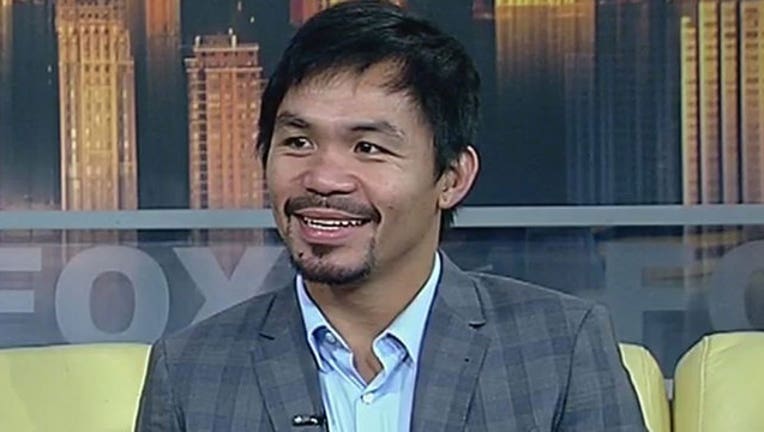 article
Manny Pacquiao's latest disparaging comments about gays have cost him a contract with Nike.
It may not be the only endorsement Pacquiao loses, even as he and promoter Bob Arum scramble to contain the damage done by a television interview in the Philippines in which the boxer said gay people "are worse than animals."
"What he's saying is diametrically opposed to what I believe," said Arum, who is promoting Pacquiao's upcoming fight with Timothy Bradley. "I'm in favor of gay rights and same sex marriage. I'm apologetic personally to the gay movement in the United States."
Nike issued a brief statement Wednesday saying it was severing its ties with the boxer over his comments about gays. The company said it no longer will have any business dealings with the boxer.
"We find Manny Pacquiao's comments abhorrent," the statement said. "Nike strongly opposes discrimination of any kind and has a long history of supporting and standing up for the rights of the LGBT community."
Pacquiao, a congressman who is now running for Senate in the Philippines, made the comments to a television station that was asking candidates about their views on same sex marriage.
"It's just common sense," Pacquiao said in the remarks posted online by the TV5 network. "Have you seen any animal having male-to-male or female-to-female relations?"
Animals, he said, were better because they recognize gender differences, and "if you have male-to-male or female-to-female (relationships), then people are worse than animals."
Pacquiao's remarks were criticized by several Filipino celebrities, and he responded by issuing an apology of sorts. In it, Pacquiao said he was still against same sex marriage but loved all people.
Arum told The Associated Press that Pacquiao is an evangelical Christian who believes that homosexuality is wrong, and that he was trying to win votes in the Philippines, where the issue of same sex marriage has not been decided.
"What he said is completely for home consumption for Filipinos wrestling with the question of legalizing same sex marriage," Arum said.
In addition to his campaign for the Senate, Pacquiao is currently training for the April 9 fight in Las Vegas against Bradley in what he says will be his last bout. Arum said he could lose some other fight sponsors because of the remarks.
Pacquiao has not fought since losing to Floyd Mayweather Jr. last May in the richest fight ever. Pacquiao reportedly made more than $100 million for the fight, and is guaranteed $20 million to fight Bradley.
Arum said he expects some people not to buy the fight on pay-per-view because of the comments, but that others might buy it because of them.
"Instead of promoting a fight with a fighter I'm promoting a fight with a politician," Arum said. "It's like of Donald Trump was a boxer and I was promoting Donald Trump when he was running for president. I would be killed by the media for all the stupid statements he is making."
It's not the first time Pacquiao has been involved in a furor over gay rights. In 2012 he was quoted as saying he was against same sex marriage because "It's the law of God" though he denied inferring that homosexuals should be put to death.
The eight-time champion is the Philippines' most famous person and the country's most popular athlete. He has represented the Sarangani province in the Philippines' House of Representatives since May 2010, though has drawn criticism for seldom showing up for legislative duties.
Polls in the Philippines show he is a strong contender for the Senate seat, which many believe will eventually lead him to seek the country's presidency.