Pat Summitt, winningest coach in D1 history, has died at 64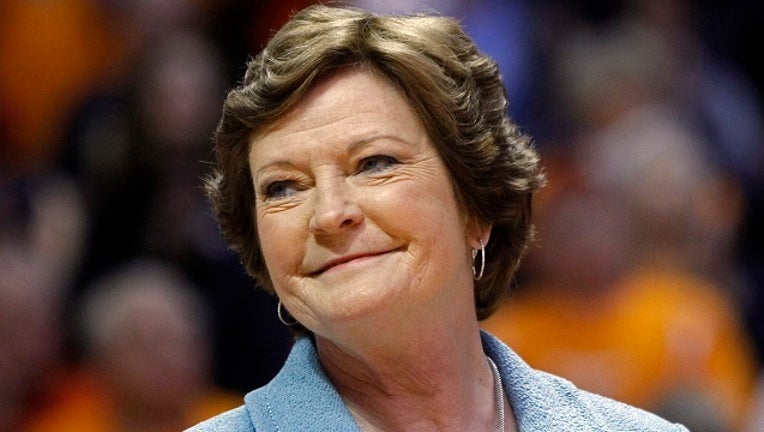 article
KNOXVILLE, Tenn. (AP) - Pat Summitt put women's basketball on her back, breaking down barriers with her indomitable spirit and demanding respect for female athletes on her way to becoming the winningest coach in Division I college basketball history.
The woman who lifted the sport to national prominence staring down players and officials with her icy glare will be remembered for far more than the impressive numbers she piled up over 38 seasons, including eight national titles.
Summitt, 64, died peacefully Tuesday morning at Sherrill Hill Senior Living in Knoxville surrounded by those who loved her most, according to her son, Tyler. Her death, five years and two months after being diagnosed with early onset dementia, Alzheimer's type, resulted in an outpouring of reactions from the president to people who never played for Summitt.
"Pat started playing college hoops before Title IX and started coaching before the NCAA recognized women's basketball as a sport," President Obama said. "When she took the helm at Tennessee as a 22-year-old, she had to wash her players' uniforms; by the time Pat stepped down as the Lady Vols' head coach, her teams wore eight championship rings and had cut down nets in sold-out stadiums."
Obama added Summitt's Hall of Fame career tells of the historic progress toward equality in American athletics the coach helped advance.
"Her legacy, however, is measured much more by the generations of young women and men who admired Pat's intense competitiveness and character, and as a result found in themselves the confidence to practice hard, play harder, and live with courage on and off the court," Obama said.
Summitt helped grow college women's basketball as her Lady Vols dominated the sport in the late 1980s and 1990s, winning six titles in 12 years. Tennessee — the only school she coached — won NCAA titles in 1987, 1989, 1991, 1996-98 and 2007-08. Summitt had a career record of 1,098-208 in 38 seasons, plus 18 NCAA Final Four appearances.
Former Lady Vols forward Candace Parker said Summitt's impact went way beyond Knoxville.
"She's changed the way women's basketball is played," Parker said. "She's changed the nature of women's basketball."
Summitt announced in 2011 at age 59 that she'd been diagnosed with early onset dementia. She coached one more season before stepping down. At her retirement, Summitt's eight national titles ranked behind the 10 won by former UCLA men's coach John Wooden. UConn coach Geno Auriemma passed Summitt after she retired.
When she stepped down, Summitt called her coaching career a "great ride."
Tyler Summitt said Tuesday that his mother had battled her toughest opponent with fierce determination.
"Even though it's incredibly difficult to come to terms that she is no longer with us, we can all find peace in knowing she no longer carries the heavy burden of this disease," Tyler Summitt said in a statement.
Peyton Manning, who sought Summitt's advice about returning to Tennessee for his senior season or going to the NFL, said it would have been a great experience to play for her.
"She could have coached any team, any sport, men's or women's. It wouldn't have mattered because Pat could flat out coach," Manning said in a statement. "I will miss her dearly, and I am honored to call her my friend. My thoughts and prayers are with Tyler and their entire family."
Summitt was a tough taskmaster with a frosty glower that could strike the fear of failure in her players. She punished one team that stayed up partying before an early morning practice by running them until they vomited. She even placed garbage cans in the gym so they'd have somewhere to be sick.
Nevertheless, she enjoyed such an intimate relationship with her players that they called her "Pat."
Summitt never had a losing record and her teams never missed the NCAA Tournament. She began her coaching career at Tennessee in the 1974-75 season, when her team finished 16-8. She became the first millionaire coach in women's basketball in 2006 and was paid $1.5 million in her final season in 2011-12.
Summitt won 16 Southeastern Conference regular season titles, as well as 16 conference tournament titles. She was an eight-time SEC coach of the year and seven-time NCAA coach of the year. She also coached the U.S. women's Olympic team to the 1984 gold medal.
Her greatest adversary on the court was Auriemma. The two teams played 22 times from 1995-2007. Summitt ended the series after the 2007 season.
"Pat set the standard for which programs like ours dreamed of achieving, both on and off the court," Auriemma said. "Our sport reached new heights thanks to her success, which came from an incomparable work ethic and a larger than life, yet, compassionate personality."
In 1999, Summitt was inducted as part of the inaugural class of the Women's Basketball Hall of Fame. She made the Naismith Basketball Hall of Fame a year later.
She also received the Presidential Medal of Freedom, the nation's highest civilian honor.
Summitt was such a competitor that she refused to let a pilot land in Virginia when she went into labor while on a recruiting trip in 1990. Virginia had beaten her Lady Vols a few months earlier, preventing them from playing for a national title on their home floor.
But it was only in 2012 when being honored with the Arthur Ashe Courage Award that Summitt shared she had six miscarriages before giving birth to her son, Tyler.
Born June 14, 1952, in Henrietta, Tennessee, Summitt graduated from Cheatham County Central High School just west of Nashville. She played college basketball at the University of Tennessee at Martin where she received her bachelor's degree in physical education. She was the co-captain of the 1976 U.S. Olympic team, which won the silver medal.
After playing at UT Martin, she was hired as a graduate assistant at Tennessee and took over when the previous head coach left.
Summitt detailed her battle with dementia in a memoir, "Sum It Up," released in March 2013 and co-written with Sally Jenkins.
"It's hard to pinpoint the exact day that I first noticed something wrong," Summitt wrote. "Over the course of a year, from 2010 to 2011, I began to experience a troubling series of lapses. I had to ask people to remind me of the same things, over and over. I'd ask three times in the space of an hour, 'What time is my meeting again?' - and then be late."
Summitt started a foundation in her name to fight Alzheimer's in 2011 that has raised millions of dollars.
After she retired, Summitt was given the title head coach emeritus at Tennessee. She had been cutting back her public appearances, coming to a handful of Tennessee games this past season and occasionally also traveled to watch her son Tyler coach at Louisiana Tech.
Earlier this year, Summitt moved out of her home into an upscale retirement resort.
She married R.B. Summitt in 1980 and filed for divorce in 2007.
Summitt is survived by her mother, Hazel Albright Head; son, Tyler; sister, Linda; brothers, Tommy, Charles and Kenneth. Tyler Summitt said a private funeral and burial will be held in Middle Tennessee and asked that the family's privacy be respected. A public memorial service will be held July 14 at Thompson-Boling Arena.