Sharks officially announce Peter DeBoer hired as new coach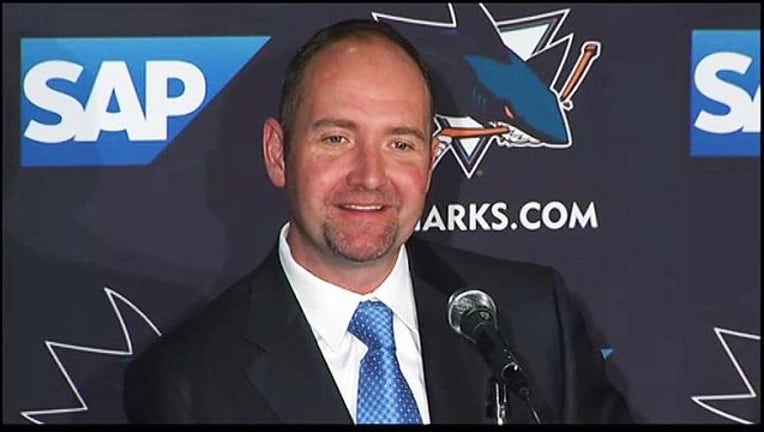 article
SAN JOSE, Calif. (AP) -- The San Jose Sharks have officially hired former New Jersey and Florida coach Peter DeBoer to replace the departed Todd McLellan.
The team made the announcement at a news conference Thursday.
The decision to hire DeBoer ends a lengthy search that started April 20 when the team and McLellan announced that he would not be back for an eighth season in San Jose. The departure was announced as a mutual agreement and McLellan was later hired as head coach in Edmonton.
General manager Doug Wilson interviewed numerous candidates before deciding on DeBoer, who has coached seven seasons in the NHL with the Panthers and Devils. His best season came in 2011-12 when he led New Jersey to the Stanley Cup finals where the Devils lost to Los Angeles.
That was the only time DeBoer made the playoffs in his coaching career. He was fired by the Devils in December.
DeBoer most recently served as an assistant to McLellan at the world championships, where Team Canada won the title.
DeBoer has ties to the Sharks front office. Larry Robinson was one of his assistants in New Jersey and is director of player development in San Jose after serving as an assistant to McLellan the past three seasons.
Wilson believed that DeBoer was the right man to lead the Sharks through a rebuilding phase after the team's run of 10 straight playoff berths ended this year.
A year after blowing a 3-0 series lead in a first-round matchup with Los Angeles, the Sharks finished 12th in the 14-team Western Conference with 89 points.
San Jose is trying to transition from a team led by Joe Thornton and Patrick Marleau to one built around players like Joe Pavelski, Brent Burns, Logan Couture and Marc Edouard-Vlasic.
DeBoer's main task will be to develop a young core to support those players in their primes.