Sharks use big 1st period to beat Blues 6-3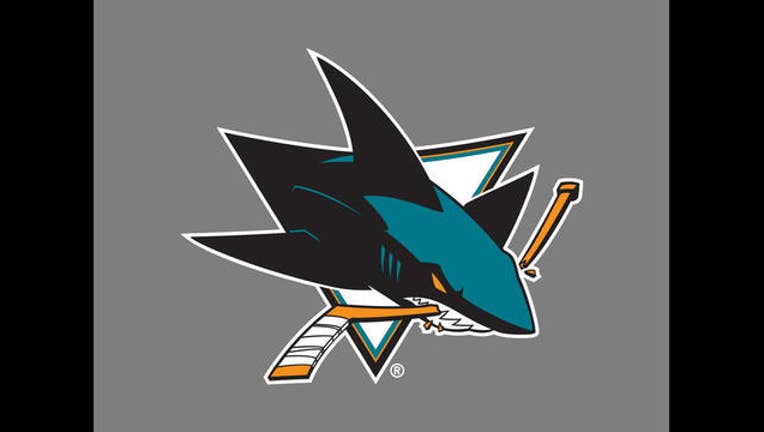 article
ST. LOUIS (AP) - A big hit sidelined San Jose's Matt Tennyson and fired up the Sharks.
Tomas Hertl, Logan Couture and Joe Thornton each scored two goals, powering San Jose to a 6-3 victory over the St. Louis Blues on Monday night.
Thornton also had two assists as San Jose improved to 21-9-2 on the road, matching their total road wins from last season. At home, the Sharks are just 11-12-3.
Tennyson got hurt in the first period. Blues forward Ryan Reaves rammed the defenseman into the glass behind the San Jose goal and smashed his face into the divider. Tennyson dropped flat on his back at 8:37, and Reaves received a 5-minute major for boarding and a game misconduct penalty.
San Jose turned the sequence into two power-play goals.
"I think that's the ultimate retribution for a hit like that is to score two or three power-play goals and that decision basically cost them the game," San Jose coach Peter DeBoer said. "I think Matt's OK. He's not great obviously. He's probably concussed and will see what else.
"Those are the kind of hits we're trying to get rid of so I'm sure the league will deal with it."
St. Louis defenseman Robert Bortuzzo said the hit was not intentional by Reaves.
"The game is moving real quick out there. Reaves plays the game hard and on the edge but he's never been known to be malicious or anything," Bortuzzo said. "It's a tough situation for a guy to go down."
Hertl had two of San Jose's three goals in the first. He also scored in the Sharks' 5-2 loss at Carolina on Friday.
San Jose went up 1-0 when Hertl grabbed a loose puck behind the net and jammed it in against Brian Elliott at 4:44.
Hertl scored his 14th goal after Tennyson got hurt. Elliott stopped Joonas Donskoi's shot, but the puck got behind him and Hertl pushed it over the line for a power-play goal at 10:18.
Bortuzzo then got a slashing penalty, giving the Sharks a two-man advantage for 1:19.
San Jose made the short-handed Blues pay when Couture scored from in front the net at 12:59.
"We're taking way too many penalties," St. Louis coach Ken Hitchcock said. "Far too many careless penalties, stick fouls. We weren't ready."
Elliott got hurt on the play. The Blues said he had a lower-body injury.
Jake Allen replaced Elliott and finished with 15 saves. The Blues activated Allen from injured reserve Sunday.
"I haven't played in a month and a half," Allen said. "I got my feet wet. We got too far behind the eight-ball to catch up."
St. Louis cut the lead to 3-1 when David Backes scored a power-play goal from the front of the net at 17:36 of the first.
A power-play goal by Vladimir Tarasenko at 11:25 of the second got the Blues within one. Tarasenko, who also had two assists, took a pass from Kevin Shattenkirk at the top of the circle and snapped a quick wrist shot by goalie Martin Jones for his 29th goal.
But the Sharks scored 20 seconds later when Couture tapped in a loose puck by the crease.
San Jose made it 5-2 when Thornton scored on a backhander at 7:26 of the third period. He has 52 points in 46 career games against the Blues.
After a review, officials ruled against a Sharks challenge to allow a goal by Jay Bouwmeester at 9:50.
Thornton's empty-net goal at 18:35 ended the scoring.
"We got off to a quick start and it's always nice playing with the lead," Thornton said. "We did a good job with it tonight."
The Sharks beat the Blues 3-1 on Feb. 4 in St. Louis in the only other meeting of the season. Since that game, the Blues had been unbeaten in regulation (6-0-1). St. Louis is 7-2-1 in February with both losses coming to the Sharks.
NOTES: San Jose improved to 25-2-1 when it scores the first goal and 19-1 when leading after the first period. ... The Sharks acquired defenseman Roman Polak and forward Nick Spaling in a trade with Toronto on Monday. The Sharks gave up 2017 and 2018 second-round picks and forward Raffi Torres in the deal.