Trout, Calhoun HRs in 8th help Angels beat A's 5-4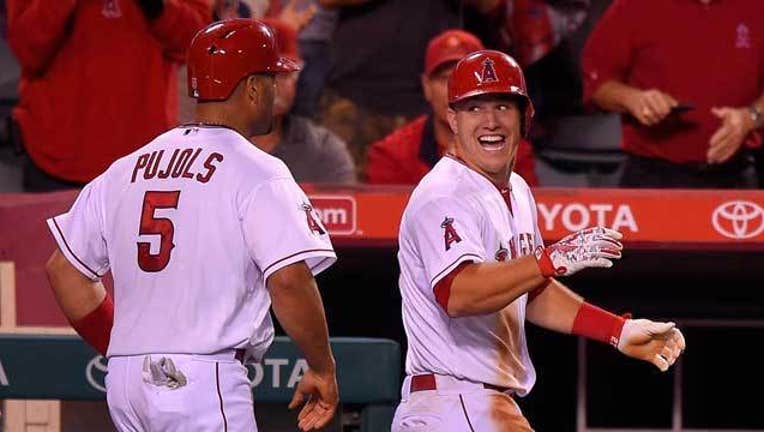 article
ANAHEIM, Calif. (AP) — Mike Trout and Kole Calhoun drove in the tying and go-ahead runs with eighth-inning homers, leading the Los Angeles Angels to a seesaw 5-4 victory over the Oakland Athletics on Friday night.
Josh Reddick had given the A's a 4-3 lead in the seventh with a two-run shot against Fernando Salas. That put starter Jesse Chavez in line for a victory after Brett Lawrie and Josh Phegley supported him with back-to-back homers in the fourth against Hector Santiago.
But Evan Scribner (1-1) served up Trout's 18th of the season leading off the eighth, then retired Albert Pujols on a towering fly to the warning track in left before Calhoun drove a 1-0 pitch deep into the seats in right for his sixth of the season. It was the fourth lead change of the game.
Jose Alvarez (1-1) pitched a perfect eighth for the victory and Huston Street got three outs for his 18th save in 20 attempts, retiring Reddick on a fly ball to center with his 26th pitch of the ninth and runners at first and second.
Trout led off the sixth with a single, Pujols followed with a double and Calhoun drove them both in with a single up the middle on Chavez's next pitch. Johnny Giavotella then barely beat out a grounder to third, but was called out by umpire Chris Conroy.
Television replays confirmed that the runner was safe, but Angels manager Mike Scioscia was out of challenges by then after burning an earlier one in which Oakland's Mark Canha's steal of second base in the third inning was upheld. Scioscia charged out of the dugout after the Giavotella ruling and had a lengthy one-way argument with Conroy before he was ejected.
Santiago threw 106 pitches in 5 2-3 innings, allowing two runs and seven hits with six strikeouts and a walk before leaving with a 2-1 deficit. He was 3-0 with a 1.01 ERA in his six previous career starts against Oakland.
After stranding a runner at second base in each of the first three innings, Santiago retired the first two batters in the fourth before Lawrie ended an 0-for-16 drought with his sixth homer and Phegley hit his second four pitches later.
It was the second time this season that an opposing team has gone back-to-back against the Angels. On May 3, Jered Weaver gave up homers to his first two batters — Nori Aoki and Joe Panik — in a 5-0 loss at San Francisco.
Giavotella led off the Angels second with a double and scored on Efren Navarro's single off Chavez, who allowed three runs and seven hits over seven innings on five days' rest.
IN THE FOLD
The Angels signed C Taylor Ward, four days after making him their No. 1 draft pick. He will report to their rookie-level team in Orem, Utah, on Sunday.
TRAINER'S ROOM
Athletics: Pat Venditte, who last week became the first ambidextrous pitcher to appear in a major league game since Greg Harris in 1995 was placed on the 15-day DL because of a right shoulder strain. The move is retroactive to June 10. Venditte is the ninth player currently on the team's DL. They already have used the DL 17 times this season, one fewer than last year, and 15 players have been on it — including CF Coco Crisp and closer Sean Doolittle twice each.