VIDEO: 49ers re-sign QB Jimmy Garoppolo to 5-year deal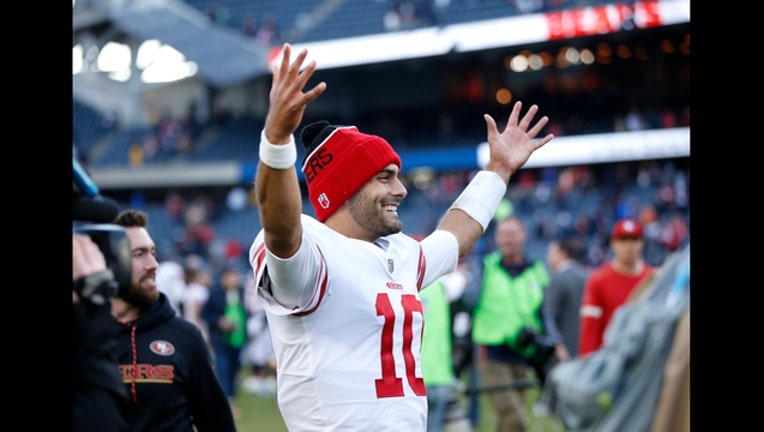 article
SANTA CLARA, Calif. (AP) - Jimmy Garoppolo signed a record-breaking, five-year contract with the San Francisco 49ers on Thursday that will pay him a reported $137.5 million to keep him off the free-agent market next month without forcing the team to use the one-year franchise tag.
NFL Network first reported the terms of the contract, which is worth $27.5 million per season to top the previous record set by Detroit's Matthew Stafford last year by $500,000 per year.
San Francisco acquired Garoppolo from New England before the trade deadline for a 2018 second-round pick. As soon as he took the field a few weeks later, he immediately turned around a franchise that started the year with a 1-10 record.
Garoppolo took over as starter and led San Francisco to five straight wins to end the season. That solidified the organization's belief in him and the willingness to offer him the largest average per year contract in NFL history.
While Garoppolo lacks the track record of the top quarterbacks in the NFL after spending most of his career as Tom Brady's backup with New England, what he has shown when he has gotten on the field has been impressive.
He completed 67.4 percent of his passes this season, averaging 8.8 yards per attempt with seven TDs, five interceptions and a 96.2 rating. Among quarterbacks with at least 100 attempts last season, Garoppolo ranked first in yards per attempt, fourth in completion percentage. His 308.4 yards passing per game in his five starts also would have led the league had he played a full season.
Garoppolo has won all seven starts in his career, including two in New England to start the 2016 season when Brady was suspended for his role in "Deflategate." Only four other quarterbacks since the 1970 merger won their first seven starts with Ben Roethlisberger the most recent to do it with 15 wins in a row in the regular season for Pittsburgh in 2004-05. Garoppolo's 2,038 yards passing in his first seven starts are the fourth-most among all quarterbacks since 1970.
Locking up Garoppolo is the first big step this offseason in San Francisco's rebuilding plan that got off to a strong start last season in the first year under coach Kyle Shanahan and general manager John Lynch.
The duo took over a franchise in turmoil with coaching changes following three straight seasons. While the season started with nine straight losses with Brian Hoyer and rookie C.J. Beathard at quarterback, the foundation for future success was being put in place.
Now with the quarterback position settled, the Niners can use their hefty amount of salary cap room to fill in the other pieces, including upgrading the offensive line and skilled position players and adding pass rushers and cornerbacks on defense.
___
More AP NFL: pro32.ap.org and twitter.com/AP_NFL