Warriors confident of another comeback in the NBA Finals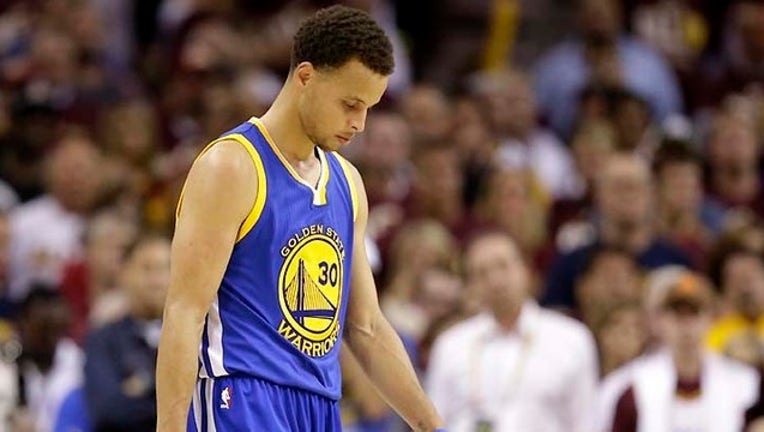 article
CLEVELAND (AP) -- All things considered, the Golden State Warriors would rather have been golfing.
That's what some players did the last time they found themselves in this situation, when they were getting outmuscled and even outhustled, banged and beaten by a bigger team.
They couldn't get a tee time Wednesday. NBA Finals rules required the team to come to the arena for media obligations on the off day.
"So it's going to be dark by the time we get out of here," swingman Andre Iguodala said.
But just as they fought their way out of that situation against Memphis in the Western Conference semifinals, they believe they will overcome another 2-1 deficit now against Cleveland.
"We'll figure out our game and the adjustments we need to make as we watch film later today, and we'll be ready tomorrow to give our best effort," MVP Stephen Curry said. "I feel like we're pretty confident we can turn this around."
They've accomplished it before, against a team that did some of the same things the Cavaliers are doing now.
The Grizzlies, with big bodies inside, play a rugged style reminiscent of Eastern Conference basketball. They won Game 2 at Oracle Arena and came home to win Game 3 in that series, sending Golden State to the video room.
The Warriors didn't even go to the gym before Game 4 in Memphis, instead watching two hours of film in a hotel ballroom when the players weren't on the course. Coach Steve Kerr said they might've done the same thing Wednesday if they didn't have to report to Quicken Loans Arena, but planned to watch tape at some point.
"We will watch significant parts of it, but the similarity is there," Kerr said. "Physical team that slows it down, like Memphis did. Our frustration with our pace and tempo is there. So it's very similar and it's very helpful that we've been through this process. Obviously, the personnel is different; the teams are different. But it's something we've been through, and that is a positive that we can draw on that experience."
Golden State has averaged just 97.3 points in this series, even with two games going to overtime, after leading the NBA with 110 per game during the regular season. The Warriors were held to 90 and 89 in their back-to-back losses to the Grizzlies, then bounced back with 102.3 per game in running off three straight victories.
"We're down 2-1 on the road. Same sequence of games, win-loss-loss, so very similar situations," Curry said. "Obviously a different team, so you've got to adjust accordingly. But the mission is we've got to win Game 4. Go home with an even series and take it from there."
A better performance from Draymond Green would help. The runner-up for Defensive Player of the Year is shooting just 8 for 30 (27 percent) in the finals, missing seven of his eight 3-point attempts, and was treated Wednesday for back spasms. Kerr said Green was expected to play Thursday.
Green was animated Wednesday talking about the difference in the Warriors and Cavs thus far.
"They're playing like a team that's desperate and needs something. We're playing like a team that's not desperate and got something," he said.
If Green is limited, that could open additional minutes for David Lee, who came off the bench Tuesday after sitting out Games 1 and 2 and scored 13 points. Kerr and Warriors players said they expected Lee to have a bigger role going forward.
"Them saying it, and him playing, obviously gives us a heads-up," Cleveland coach David Blatt said. "But there are a lot of options on that team. They're a deep team and they can give you different looks."
Lee helped spark a Game 4 rally, though the biggest difference was Curry. The MVP finally got his shot to fall while scoring 17 points and making five 3-pointers in the fourth quarter, and the Warriors seemed to gain confidence from seeing him break out.
"I found a rhythm as the game went on," Curry said, "so I'll hopefully bottle up that second half and be ready to go to start the game in Game 4."