With series tied, Warriors face new challenges in Cleveland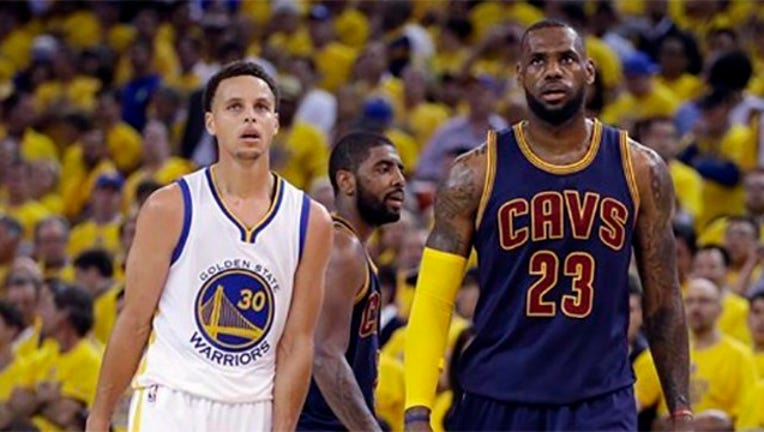 article
CLEVELAND (AP) — For the sixth consecutive year, the NBA Finals are tied after two games.
Sometimes that means a long series is coming, such as when Miami and San Antonio went the distance before LeBron James' magnificent Game 7 gave the Heat the title in 2013.
Or, as James knows, it may not.
The Heat and Spurs were tied again last year after Game 2, with the Heat feeling they could've won both games. San Antonio blitzed them from there, winning both games in Miami easily before wrapping it up in Game 5 at home.
Perhaps the Golden State Warriors can duplicate that and the NBA's best team in the regular season can find its game on the road. But with the way the Cleveland Cavaliers are defending in this series, that won't be easy.
"You know, we're going to come in with an aggressive mindset defensively and offensively," James said after Game 2.
"And for us to win a finals game shooting 32 percent from the field, it's just a testament of how gritty we can be. It has to be that for the rest of the series, no matter how many games it takes."
Game 3 is Tuesday night at Quicken Loans Arena, and here are some things to watch:
PIVOTAL GAME?: The Game 3 winner when the finals is tied 1-1 has gone on to win the series 31 of 37 times, according to information provided to the NBA by the Elias Sports Bureau. That stat hasn't meant much when James is involved. His Heat rallied to win the series in 2013 after dropping Game 3 to the Spurs, but lost to Dallas in 2011 after being ahead 2-1.
ROAD WARRIORS: Golden State lost home-court advantage but has proven it can win on the road. The Warriors set a franchise record with 28 road victories during the regular season and are 5-2 away from Oracle Arena in the playoffs.
Cleveland, though, has won 26 of its last 28 at home.
"I mean, we know it's going to be a tough Game 3. Every game against this team is going to be tough," Cavs guard Matthew Dellavedova said. "So while it's nice to be going back home, yeah, we're still going to have to do it out there on the court and, yeah, get ready to go."
PASS THE BALL: The Warriors had only 16 assists in Game 2 after finishing with 24 in Game 1, and they know they need to be closer to the latter number for their offense to click.
"They are playing good defense, but I think a lot of it is on us," guard Klay Thompson said after Game 2. "We're not playing like ourselves. We're not moving the ball like we should. We only had 16 assists. That's not us, man. We usually get 20, 25 when we're playing great. So we've got to move the ball better and trust each other."
MIGHTY MOZGOV: Timofey Mozgov averaged 16.5 points and 9.0 rebounds in the first two games, outplaying counterpart Andrew Bogut, but was on the bench for much of the latter part of Game 2. That's because the Warriors went with a small lineup, not because of the way the 7-foot-1 Russian has done wrong.
"Well, first of all, Moz played great. He played extremely well the in first game, too," Cavaliers coach David Blatt said.
MISFIRING MVP: Stephen Curry is 15 for 43 in the series, but after shooting 5 of 23 in Game 2, knows his shot can start falling in Cleveland.
"I'm not going to let one game kind of alter my confidence," he said Sunday. "I know as a team we're not going to let one (game) alter our belief that we're going to win the series.
"We've got to move on and be ready to play a good team that's ready to go home."