10-year anniversary: 'Batkid' saves City of San Francisco from villains
SAN FRANCISCO - Ten years ago, the City of San Francisco was under attack by the Riddler and the Penguin and needed not only the help of Batman but also his sidekick, Batkid.
The then-5-year-old Miles Scott stepped up to the plate and saved San Francisco, earning him a key to the city from late Mayor Ed Lee and words of encouragement from then-President Barack Obama. 
Through Make-A-Wish Greater Bay Area, Miles could fulfill his dream of being a superhero. Miles, now 15, was diagnosed with leukemia at just 1 year old. He has been in remission for the last 10 years, the foundation shared. 
On Nov. 15, 2013, San Francisco turned into Gotham for the day, and thousands showed up and out for the child, cheering him on as he battled villains and thwarted crime. The event also inspired a documentary by New Life Cinema and Warner Bros. titled, "Batkid Begins."
Driving around with Batman in his Batmobile, Miles rescued a damsel in distress who was tied down onto the city's iconic cable car tracks, disabled a plastic bomb," and stopped the Riddler from robbing a bank in the Financial District. He also saved San Francisco Giants mascot Lou Seal from the Penguin, before turning the villain over to police.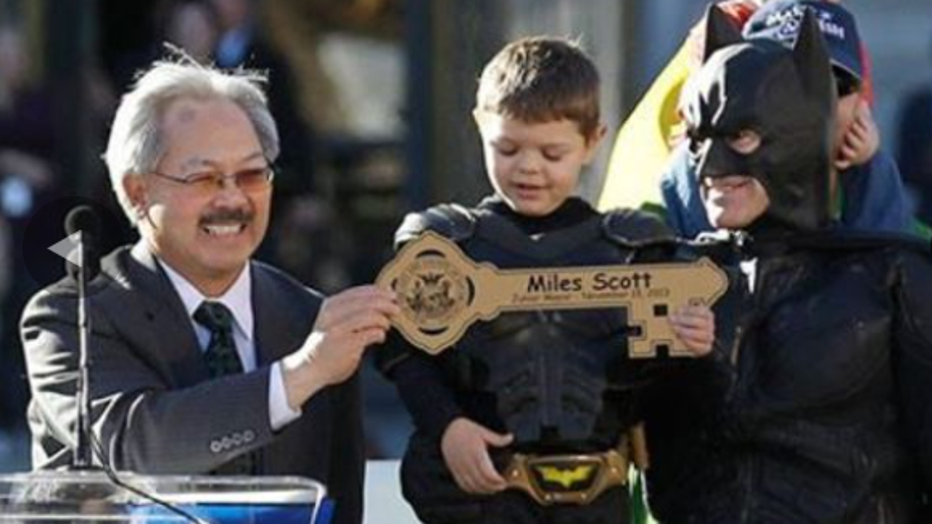 Miles Scott (middle) being honored with a key to the city by late Mayor Ed Lee (left) after saving the day with Batman.
Miles currently lives with his parents, Nick and Natalie Scott, along with his younger brother Clayton, who played the part of Robin that day, and his youngest brother Ben, who was born after his "wish."
Reminiscing on the event, it "wasn't just about [him] that day," Miles said.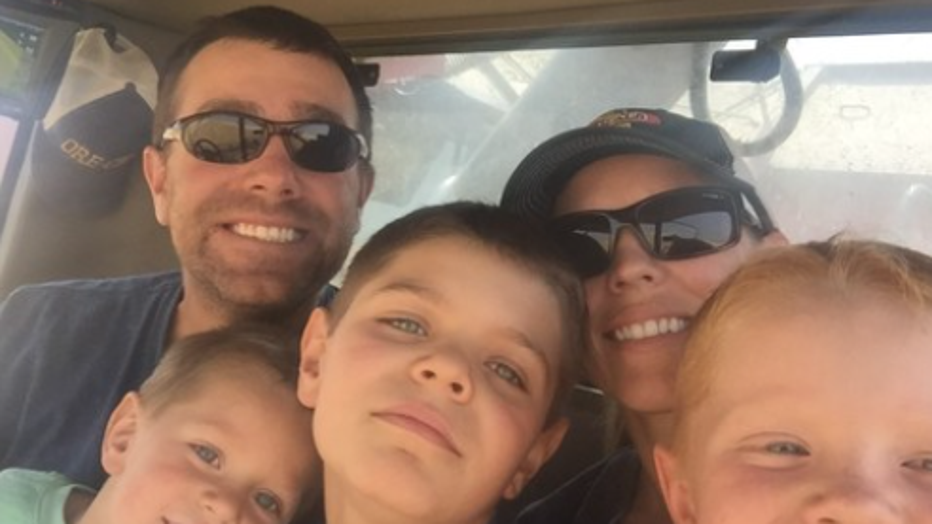 Miles Scott with his parents Nick and Natalie Scott and his younger brothers Clayton and Ben. 
"I feel like it brought hope to more than just a couple people. They came out and were happy…it was about getting all together and just having fun," he said.
PREVIOUS COVERAGE: 
The family stays in a small town in Siskiyou County near the Oregon border. He plays football for his high school and drives a tractor helping out on his family's farm. 
As far as his Batkid costume, he doesn't quite fit in it anymore, but his youngest brother does and wore it last Halloween.
Natalie Scott has since become a volunteer with the foundation and helps grant wishes to Siskiyou County children. 
"I remember being impatient with Miles and just—we would do laps and laps in the hallway, and we'd push him in this little car with his IV pole," she shared with the foundation. "I remember seeing all the other kids that maybe were in worse shape than him…I just wanted to be able to help other kids and their families have some sort of positive ending to their story or, you know, to start their new beginning." 
She called her son's wish the "ending of a chapter" in their family so that they could "move on and continue."
Miles shares with his fans that he's doing amazing.
As far as his cancer experience goes: "I feel normal, but every time I think about it, it's like, 'Wow, that actually happened.'"