1,000 students evacuated after bomb threat at Sonoma County high school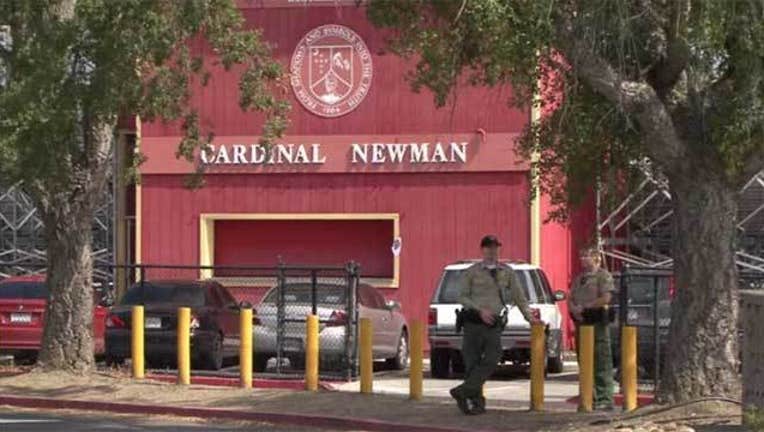 article
SONOMA COUNTY, Calif. (KTVU and wires) -- More than 1,000 students were evacuated Friday morning at three schools north of Santa Rosa after a person called twice saying there was a bomb at one of the schools, a high school principal said.
A person called Cardinal Newman High School at 50 Ursuline Road at about 10:30 a.m. and again at about 10:40 a.m. about a bomb at the school, school principal Graham Rutherford said. Rutherford said high school officials called the Sonoma County Sheriff's Office after the first call to be safe and started evacuating students and staff at about 10:45 a.m.
St. Rose Catholic School and Roseland Collegiate Prep at 80 Ursuline Road were also evacuated. St. Rose is a preschool and K-8 school at 4300 Old Redwood Highway.
Superintendent of Roseland Public Schools Amy Jones-Kerr said at about 1:30 p.m. the sheriff's officials had finished searching Cardinal Newman High School and did not find a bomb and deputies were searching cars.
Officials with Cardinal Newman High School notified parents immediately by email, school officials said. By 1:20 p.m., most of the students had been picked by their parents. Both Cardinal Newman and Roseland Collegiate Prep are closed for the rest of the day.
A call to St. Rose and the Diocese of Santa Rosa were not immediately returned. St. Rose and Cardinal Newman are schools operated by the Diocese.
Rutherford said he does not think the threat came from a student. The caller did not recognize his voice nor did he recognize the caller's voice.