13-year-old crashes parents' Tesla, Santa Rosa police say
SANTA ROSA, Calif. - A 13-year-old who apparently took her parents' Tesla out without their permission, ended the ride with a major crash early Tuesday morning, Santa Rosa police said. Investigators said the driver and two others in the car "miraculously" escaped with only minor injuries. 
At about 4:30 a.m., officers were called to a residential area on King Street near Howard Street on a report of a major collision.
Police and medical personnel found a black Tesla that appeared to have collided with a utility pole. The car was crushed in the front and was severely damaged.  
Three juveniles remained at the crash site, according to police who said, "Miraculously, all had only minor injuries and were out of the Tesla and walking."
Police said according to statements from the juveniles, it appeared that the driver lost control of the Tesla when she hit a dip in the road. In addition to colliding with the utility pole, she also crashed into three parked vehicles and a street sign, investigators said. 
SEE ALSO: Candlelight vigil held for dad slain in Santa Rosa Jack in the Box shooting
The kids' parents were notified.
PG&E crews were called in to inspect the damaged utility pole, and there was no initial indication that power was disrupted to residents in the area.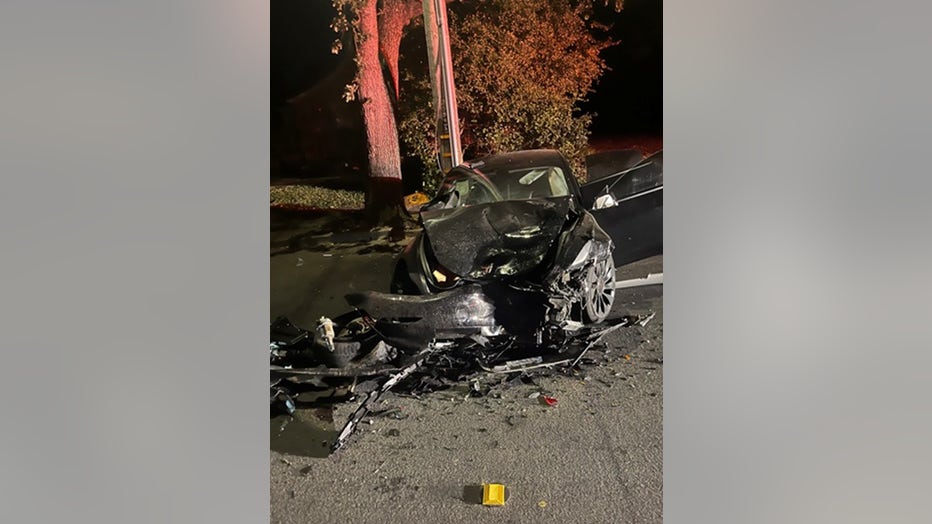 Santa Rosa police said a 13-year-old apparently crashed her parents Tesla on early Tuesday, Aug. 1, 2023, after taking the car without their permission. 
Police said they're trying to determine if alcohol or any other factors or people were involved.
Anyone with information about this case was encouraged to contact Santa Rosa Police at (707) 543-3600, or email Officer Ashley Odetto at aodetto@srcity.org.