17-year-old girl dies after Jeep passes traffic, crossing yellow line near Brentwood: CHP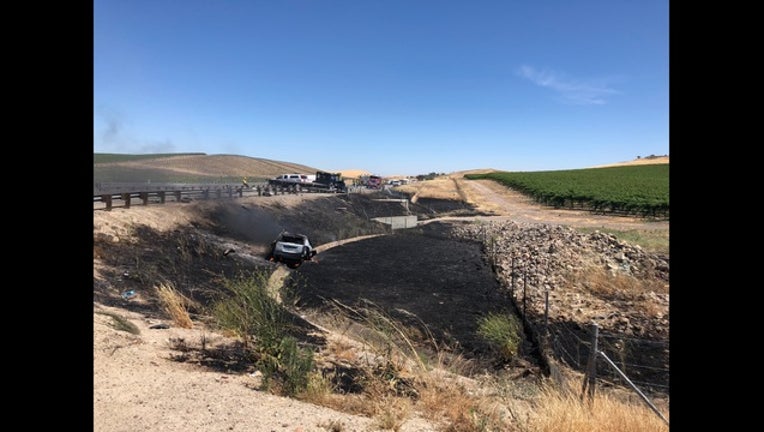 BRENTWOOD, Calif. - A 17-year-old girl died in a head-on collision Monday afternoon after her 20-year-old driver tried to pass traffic in his lane and ended up striking a tow truck coming in the other direction, the California Highway Patrol said.
The Contra Costa County Coroner identified her as Emily Alarcon Reyes of East Palo Alto. The CHP had originally said she was from Petaluma. 
The deadly collision was reported  in unincorporated Contra Costa County outside of Brentwood  at 2:22 p.m. on Vasco Road just south of Walnut Boulevard.
According to an initial investigation, CHP officers said the 20-year-old San Francisco man was driving his 2016 Jeep Compass north on Vasco Road when he decided to pass traffic and ended up crossing over the broken yellow line into the  southbound lane. 
At the same time, a tow truck driver was traveling in the southbound lane of Vasco Road. The Jeep and the tow truck crashed into each other, the CHP said.
CHP officers said the collision catapulted the Jeep off the road and into a grass field where it became engulfed in flames. 
The 17-year-old girl was taken to John Muir Medical Center in Walnut Creek where she died at 3:37 p.m. There was also a 21-year-old rear passenger in the Jeep, and he was flown to Eden 
Hospital with major injuries but they were not considered life-threatening. 
The Jeep driver and the tow truck driver had only minor complaints of pain, the CHP said.    
 CHP officials said drugs and alcohol do not appear to have played a part in the collision, but it's still under investigation.  Anyone who witnessed it or the events leading up to it is asked to call the CHP in Martinez at (925) 646-4980.
Bay City News' Keith Burbank contributed to this report.