2 friends of Boston Marathon bomber sentenced to prison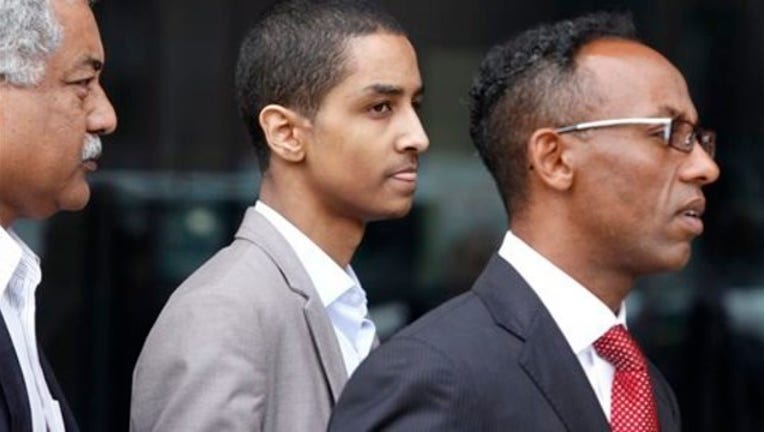 article
BOSTON (AP) — Two college friends of marathon bomber Dzhokhar Tsarnaev were sentenced Friday to prison after one tearfully apologized to the residents of Boston for impeding the investigation and the other had a show of support from former Massachusetts Gov. Michael Dukakis.
Azamat Tazhayakov, 21, was sentenced to 3½ years for impeding the investigation into the attack while authorities frantically searched for the bombers. He was convicted of conspiracy and obstruction of justice for agreeing with another friend to remove Tsarnaev's backpack from his dorm room at the University of Massachusetts-Dartmouth. The backpack contained fireworks that had been emptied of their explosive powder.
Later Friday, 21-year-old Robel Phillipos was given a three-year sentence for lying to the FBI about being in Tsarnaev's dorm room days after the bombings. The judge said Phillipos was to blame for a "substantial diversion" of law enforcement resources.
"There's a price to be paid for the failure of responsibility," Judge Douglas Woodlock said.
Prosecutors had asked for a sentence of a little more than five years in prison. Phillipos' lawyers had asked for two years of home confinement. The sentence ultimately given to Phillipos was the most lenient penalty imposed on the three friends who were charged.
Dukakis, a friend of Phillipos' family and the 1988 Democratic presidential nominee, wrote a letter of support for him and even testified during his trial.
In his letter to the judge, Dukakis wrote that he "can't understand why justice would be served by incarcerating him."
Phillipos was accused of telling nine lies to the FBI but was acquitted of four of them. The jury rejected the government's claim that he lied when he said he did not see anyone take Tsarnaev's backpack and did not see any fireworks.
Lawyers for Phillipos said they had hoped the judge would spare him jail time since he was the least culpable of the three friends.
"This was a case that screamed out for probation," said attorney Susan Church.
Phillipos did not speak before sentencing on the advice of his lawyers because he is appealing his conviction.
He was ordered to report to begin serving his sentence by June 24. But his lawyers said they may file a motion to stay his sentence while he appeals. If granted, that would mean he would not have to go to prison while his appeal is pending.
The bombings on April 15, 2013, killed three people and injured more than 260. Tsarnaev is awaiting formal sentencing after a jury condemned him to die for committing the attack with his now-dead older brother, Tamerlan.
Tazhayakov and the two other friends went to Tsarnaev's dorm room three days after the bombings, hours after the FBI released photos of the Tsarnaev brothers as suspects in the bombings.
One of them, Dias Kadyrbayev, was sentenced this week to six years in prison for removing Tsarnaev's backpack from the room and tossing it in a trash bin. He was also convicted of taking Tsarnaev's laptop.
Tazhayakov was found guilty of agreeing with Kadyrbayev to take the backpack and throw it away.
"I apologize to the people of Boston for what I did," Tazhayakov said Friday before he was sentenced.
He also denounced Tsarnaev's actions.
"I want to say that I don't support an extremist. I don't support any Muslim radicalization," he said. "It just makes me sick what Dzhokhar did on April 15."
None of Tsarnaev's friends was accused of knowing about the bombings ahead of time.
The judge said their crimes were still severe because they impeded an investigation into a terrorist attack at a time when investigators were trying to determine the identities of the bombers. Hours later, the Tsarnaev brothers fatally shot Massachusetts Institute of Technology police Officer Sean Collier and had a wild shootout with police in Watertown. Tamerlan Tsarnaev died following the gunbattle.
"There is no question that this was a very serious offense — the failure to act properly when confronted with the devastating event," Woodlock said.
Tazhayakov will receive credit for the more than two years he has already spent in jail. His lawyer said he expects him to finish his sentence in nine months to a year. After that, he will be deported to his native Kazakhstan.
David Archibald, one of the jurors who convicted Tazhayakov, attended the sentencing hearing and afterward said he believes Tazhayakov "got off easy." Archibald said he believes Tazhayakov might have prevented Collier's death if he had reported Tsarnaev to authorities immediately.
"If he spoke up, the FBI would have had a good idea who they were looking for," he said.
Prosecutors had asked for a four-year sentence.