2 Investigates: How thieves are stealing your gift card money before you can spend it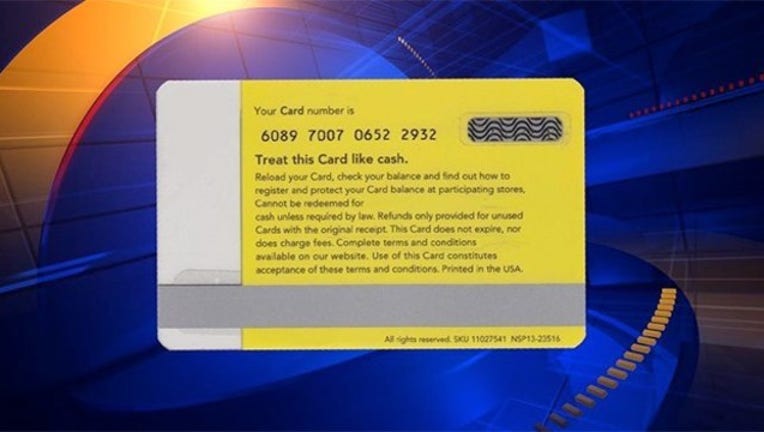 article
EL CERRITO, Calif. (KTVU) - 2 Investigates uncovered how some determined thieves are stealing the money off gift cards before the recipient ever gets a chance to spend it. They're targeting gift cards for sale on store shelves, which are left hanging out in the open for anyone to grab.
There are ways to protect yourself, but some crafty criminals make it difficult to know if your gift card has been tampered with. It's a crime that's hard to crack, but investigators in Butte County are sharing what they've learned with other agencies following a successful bust. The gift card industry is also using the information to increase security measures.
A meticulous crime
Gift cards are one of the most popular and convenient presents to give or receive. Many grocery stores, drug stores, and nationwide retailers like Walmart and Target stock inactivated gift cards for a variety of shops, restaurants, and other services in their aisles on large display racks. The cards themselves have no value until they are purchased and activated at a register. Some cards have a set value while others can be loaded with any amount.
But long before a buyer ever picks a card off a store shelf and activates it, thieves may have already gotten their hands on the card number and information that allows them to steal the money from afar. In the short gap in time between when a card is purchased and when a recipient tries to spend the funds, thieves are watching and waiting.
Butte County Sheriff's Deputies arrested two gift card thieves named Alex Ikesaki and Tami Deanda in December 2014. Philip Wysocki, an investigator with the Butte County District Attorney's Office, says the couple stole the numbers from inactivated cards from store shelves around the county, Sacramento, and Stockton areas then use supplies like razors, heat guns and glue to lift the security strips, copy down the numbers, reapply the strips and return the cards to their display racks.
Wysocki says the couple tracked the online registration sites affiliated with each card to find out when the cards were purchased and activated. With the pin number information in hand they were then able to make purchases online even though the cards were not in their possession, according to investigators.
Gold Country Casino security first noticed the duo acting suspiciously at the casino ATM, gift cards in tow. When they left, Sheriff's deputies followed them. At a nearby gas station, Tami came clean. Investigators say all the evidence, including gift cards and craft supplies, was in their car.
Ikesaki and Deanda were both charged with receiving stolen property worth thousands of dollars, and entered no contest pleas. Sentencing is scheduled for March.
"It is elaborate, it's a lot of work to do what they were doing," Wysocki said. But he added that gift card thieves can find resources on the Internet that include detailed instructions and videos showing them how to do it.The longer it takes for a gift card to get in to the hands of the recipient after its activated, the more time there is for a thief to strike. And the less likely the gift card holder is to realize when someone else has already drained the funds.
It happened to Troy Shivers, who was trying to be a good boyfriend by buying his girlfriend Kala Scott exactly what she wanted for Christmas, a $100 Target gift card. But when the El Cerrito couple tried to use the card, they discovered it was empty.
"They told us that the gift card, the funds, were already gone on there, said Shivers.
Troy bought the card at Target's Albany location where he says the couple always shops, but customer service said someone had already used it at Target stores as far away as Sacramento County.
"I looked at her, I said, 'that's impossible that's like 80 miles away.' She was like, 'well you do have the card, so I don't know how the money was gone,'" said Scott.
Difficult to prove
Butte County District Attorney Michael Ramsey says his office is now working with major retailers on ways to change gift card security seal technology to make it tamper proof. 
But in the meantime, consumers should be vigilant about inspecting their gift cards before purchasing them from displays that are accessible by all shoppers, according to the Federal Trade Commission. 
The FTC also says purchasing a gift card with your credit card may provide an additional level of protection depending on your credit card company but some stores like Lucky Supermarkets do not allow customers to pay for gift cards this way.
But even for meticulous consumers, detecting that a card has been tampered with may still be difficult if not impossible in certain cases. The gift cards the Butte County DA's Office seized as evidence looked brand new despite being tampered with. Investigators don't believe Ikesaki or Deanda stole the funds from Troy and Kala's Target card which means whoever committed that crime might still be out there.
"It's a lot of money for someone to just lose out on I think it's not worth it anymore," said Scott.
Retailers aren't required to replace the funds, and sometimes it can be difficult to prove you didn't spend the money yourself. Kala says she wouldn't give up and kept calling Target until customer service agreed to send her a new card. Though she says it may be the last gift card the couple ever uses.
Target issued the following statement to KTVU via email:
"We take the concerns of our guests seriously and encourage them to contact guest relations for additional assistance if they have questions or concerns Target may be able to answer. Guests can contact Guest Relations at 1-800-440-0680 to discuss any concerns."