2 Investigates: New complaints, enforcement questions about troubled East Bay hotel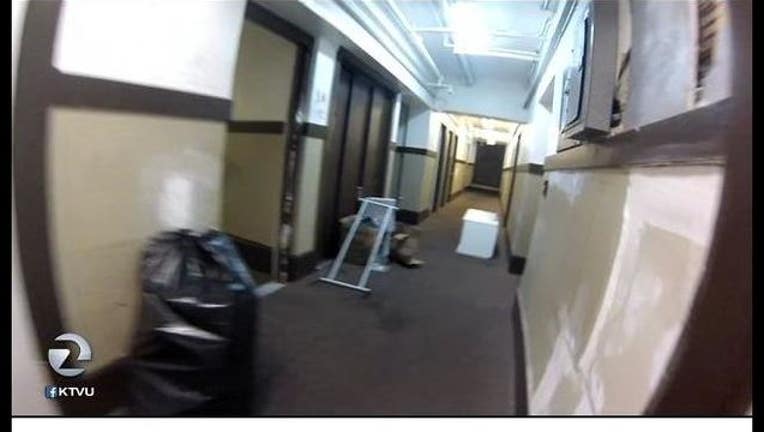 article
OAKLAND, Calif. (KTVU) - People who live at the Empyrean Towers in downtown Oakland say problems threatening their health and safety continue to plague the hotel after a KTVU investigation in February and numerous visits from city code enforcement inspectors since then.

The conditions have some housing advocates calling for Oakland to take legal action against the owners of the property.

New video of problems

In February, attorneys with the non-profit Eviction Defense Center documented a number of problems at the Empyrean Towers with cell phone video of broken doors in the common bathrooms, cracked windows, faulty plumbing and incomplete repair jobs. 
One of the videos revealed the doors to some vacant rooms at the hotel had been nailed shut.

Attorney Amy Sekany, who's representing a number of tenants at the Empyrean Towers, returned to the hotel after 2 Investigates documented unsafe and unsanitary conditions in January.

"To come back and to find out that just walking the building myself, there are all these terrible conditions still in place?  It's just really disturbing," said Sekany.

Some of the problems found by KTVU, including holes in the walls and garbage in the hallways, have been fixed, but tenants say many other issues remain.

Notices of violation

 Oakland code enforcement issued 20 notices of violation, or NOV's, to the Empyrean Towers over a couple of days in late February, according to documents obtained by KTVU through the California Public Records Act. 
Inspectors documented damaged smoke detectors, broken faucets, cracked windows and more than 90 other violations.

Those NOV's start a clock, giving a property owner 30 days to make repairs before facing fines. In some cases, code enforcement officials say Empyrean Towers managers fixed the problems, but others issues have yet to be resolved.

2 Investigates found records where an inspector chose to issue "hand written" notices to the hotel's manager, rather than issue an official violation, but Oakland's Director of Building and Planning, Rachel Flynn, defended her inspector's actions.

"They're going in, apartment by apartment, to get everything up to code and it's actually working," said Flynn.  "So, this is one of those success stories where it came to our attention, we have knowledge about how to get a building up to code and maintain it properly and we have a cooperative owner who's allowing us in."

The owner, identified by the city as Alice Tse, refused to speak with KTVU when first contacted her in January. Her attorney has not returned several phone calls and emails requesting comment since then.

Records show the city issued only four violation notices to the hotel in all of 2014.  Complaint logs indicate inspectors sometimes chose not to write up official notices when they found violations.

"If  we send a notice of violation, or NOV, they have 30 days to address it.  So, if we have someone who's cooperative and they're going to address it in a week or two, why send an NOV?" said Flynn.

Tenants frustrated

Maria Anast and her husband, Don, are among the tenants who have been most vocal about ongoing problems at the Empyrean Towers. Despite managers making some repairs to their room, such as fixing a broken window, Anast isn't satisfied with the city's response to her complaints.

"I would like to see one fine for one room?  [The inspector has] been in this room at least ten times.  No fines. Nothing's done," said Anast.

Code enforcement inspectors could not tell KTVU whether any fines have been issued to the owner of the hotel.

Tenants told KTVU some of the repairs that have been made were incomplete or poorly done.

"It's like putting a band aid over a gash," said single mom, Kia'Ora Henson.

Henson and her son, Nehemiah, say they've been living in a small room at the hotel about seven months. They showed 2 Investigates how they have to use a can to prop open a broken window frame.

The seven story hotel's elevator also remains off limits to tenants, causing the most trouble for elderly residents such as 81 year-old Katherine Bergman, who lives on the fourth floor.

"I fell!" said Bergman. "I fell three weeks ago. I was sore for three weeks."

The frustration tenants are feeling is nothing new. In 2011, federal authorities arrested the hotel's former owner, Richard Singer, who later admitted to paying someone to try to burn down the building, which was already the subject of numerous complaints and lawsuits.

Inspections continue

An inspector returned to the Empyrean Towers on March 27. The inspector, Gene Martinelli, declined an interview, but told KTVU's Eric Rasmussen he was following up on complaints and that he had "an entire floor" to inspect. 

Rasmussen asked why no fines had been issued to the hotel owners, despite repeated violations.  "There's reasons for it and they're good reasons," said Martinelli, who did not elaborate.

After the inspection, which lasted more than two hours, Martinelli told KTVU the hotel managers are "moving in the right direction."

Some tenants are not convinced.

"They're just doing enough to get by," said Anast.  "To satisfy [the inspector]."

Sekany wants to see the city take over the building.

"We would like to see is a receivership put in place here, so a third party could step in and help facilitate the repairs, take control of the building," said Sekany.

Code enforcement managers warn, the situation is "complicated."

"Say we condemn the building," said Flynn.  "Where are those families going to go?  Then we hear about that. 'City