2 suspects arrested in deadly stabbing of San Jose little league coach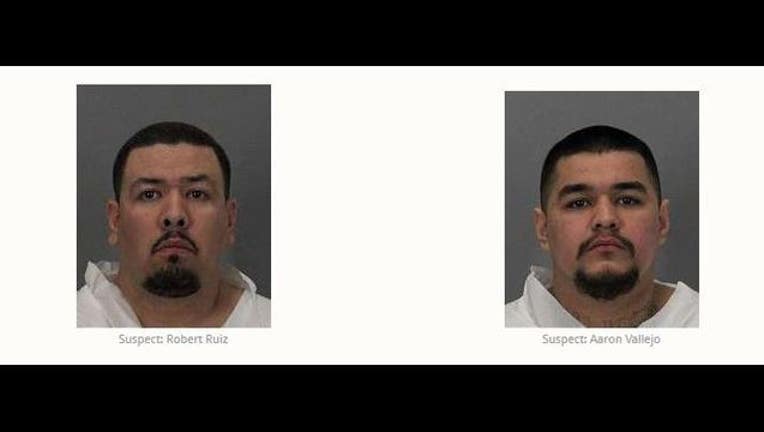 article
SAN JOSE, Calif. (KTVU) - Two suspects were arrested in the deadly stabbing that occurred in downtown San Jose just after midnight Sunday.
According to San Jose Police, 32-year-old Robert Ruiz and 24-year-old Aaron Vallejo, both of San Jose, were arrested in the stabbing death of 36-year-old Frank Navarro.
The two suspects were detained after leaving the scene. They were arrested and booked into county jail for homicide.
Over the weekend there was an emotional vigil for Navarro, a beloved little league president, who was killed in the stabbing.
Friends said Navarro was working as a security guard at the Tres Gringos Cantina when he was stabbed during a confrontation outside the bar.
Navarro didn't have any biological children of his own. However, the young people he coached on the fields were his children. On Sunday night, their families, his family and friends packed the baseball fields. All of them coming to grips with this tragedy.
In a nearly pitch black baseball field, candles illuminated the field in remembrance of Navarro. It's where the 36-year-old devoted his life to the Eastridge Little League. It's a league he played in, then became a coach when he turned 18 and for the last five years he served as board president. To Mauro Diaz, Navarro was like a brother.
"We just can't believe this," said Diaz. "We want him to be here. I am waiting for my phone call or a text saying he's okay. I don't know if it's going to happen and I want that to happen more than ever."
Outside the Little League, Navarro worked as a security guard at Tres Gringos on Second Street. Candles, flowers and football lay at the entrance.
Authorities said after midnight, they discovered Navarro had been stabbed. He was taken away in a gurney. He died at the hospital. According to witnesses, a man had initially come in with a fake ID and was denied entrance. They said that man returned with a knife stabbing Navarro, who was working the door, in the neck.
"It's cause few people couldn't get in," said a friend named Brian who didn't wish to disclose his last name. "They got mad about it and came back and took a guy away from his family. How is that right?"
"He taught me a lot about baseball," said Tony Perez of San Jose. "He taught me most of the things that I know. He inspired me to play high school ball. I ended up making my varsity team my first year playing."
          
Perez was among those he coached and mentored. Navarro graduated from Overfelt High School in San Jose, coaching baseball and football there. All of them now realizing baseball opening day around the corner won't be the same.
"He's such a good person and he's gone." said Perez. "He's going to be truly missed by everyone and all the people he has taught and touched this community. He was very involved."