2-year-old son of Yemeni mother who battled the Trump administration's travel ban dies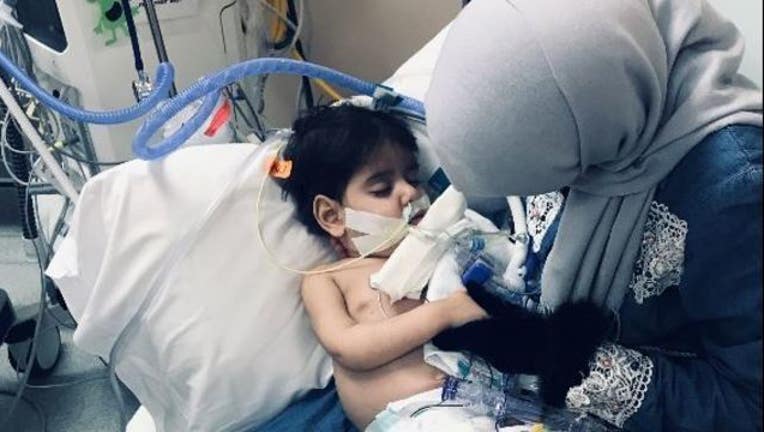 article
OAKLAND, Calif. (KTVU) - The son of a Yemeni mother who sued the Trump administration to let her in the country to be with her ailing son has died, according to the Council on American-Islamic Relations.
Two-year-old Abdullah Hassan died at UCSF Benioff Children's Hospital in Oakland on Friday. He was brought to California by his father months ago to receive medical treatment due to a degenerative brain condition.
Shaima Swileh, Abdullah's mother and a Yemeni national, was unable to be with her sick child and her husband because citizens of Yemen and four other mostly Muslim countries, along with North Korea and Venezuela, are restricted from coming to the United States under President Donald Trump's travel ban.
Related: San Francisco man shares story of escaping war-torn Yemen
As hope dwindled for Ali Hassan, the boy's father, he considered pulling his son off life support. But then a hospital worker reached out to the Council on America-Islamic relations, which sued on Dec. 16, said Basim Elkara, executive director of the group in Sacramento.
Swileh received a visa waiver from the state department on Dec. 18 and arrived at San Francisco International airport on Dec. 19.
"With their courage, this family has inspired our nation to confront the realities of Donald Trump's Muslim Ban," said Saad Sweilem, a lawyer with the council who represents the family. "In his short life, Abdullah has been a guiding light for all of us in the fight against xenophobia and family separation."
A pubic service for Abdullah is set for Saturday afternoon. 

WHAT: Funeral Service & Burial for Abdullah Hassan
WHERE: Funeral Service: California Islamic Center, 12882 Lower Sacramento Road, Lodi, CA 95242; Burial: California Islamic Cemetery, 14273 Beckman Road, Lodi, CA 95240
WHEN: Funeral Service: 1 p.m. Saturday, Dec. 29; Burial Service will follow. Please check our Facebook page for updates (in case the time of the funeral changes): www.facebook.com/cairsacramento/.
 
The Associated Press contributed to this report.